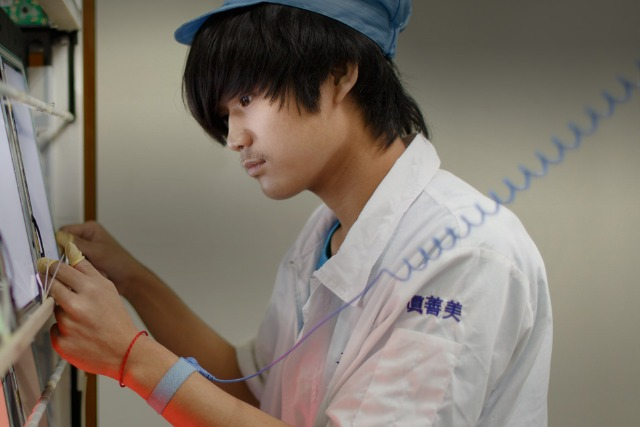 The company is on the defensive after a BBC investigation into its Chinese supplier, Pegatron, found an "exhausted workforce" with employees falling asleep at work.
The report alleged that while Pegatron paid lip service to Apple's supplier responsibility standards (embedded below), managers would routinely break the rules.
Apple's rules state that suppliers must "control" whether workers carry out demanding tasks, such as standing for long periods of time. But the BBC's footage shows managers telling new recruits: "Don't tick the options that indicate you're not willing. Tick the two which say you are."
Apple's guidelines also suggest employees work a maximum of 60 hours a week, something the investigation alleged factories weren't sticking to.
But in a company-wide email seen by the Telegraph, Apple senior vice president of operations Jeff Williams said both he and Apple boss Tim Cook were "deeply offended" by the allegations.
He wrote: "Panorama's report implied that Apple isn't improving working conditions. Let me tell you, nothing could be further from the truth."
He admitted however, that the company "could do better".
The investigation suggests that despite improved audits, Apple is still failing workers at its Chinese factories.
The company came in for intense criticism in 2010 after 14 workers at its China supplier Foxconn committed suicide. Apple subsequently stepped up its auditing process of supplier factories, and transferred some of its production work from Foxconn to Pegatron.
In response to the allegations, Apple told the BBC:"We are aware of no other company doing as much as Apple to ensure fair and safe working conditions.
"We work with suppliers to address shortfalls, and we see continuous and significant improvement, but we know our work is never done."
The company said it would investigate the claims that workers were falling asleep at their desks.
Conflict mineral controversy
The investigation also found that Apple was struggling to keep conflict minerals out of its devices. Conflict minerals are materials such as tungsten and gold which are used in the making of electronic devices and sourced from war-torn regions such as Democratic Republic of the Congo.
The use of conflict minerals raises questions over whether tech giants could be inadvertently funding warlords and armed groups.
New laws in the US mean Apple and other tech firms must report their suppliers' use of conflict minerals. Apple's report earlier this year indicated the company was making a strong start in auditing its mineral suppliers, with 64 designated conflict-free. But that left more than 100 suppliers whose status was unknown.
The BBC's investigation found that tin from illegal mines in Bangka, Indonesia was entering Apple's supply chain. One supplier said there was no way to know what was legal and what was illegal, since most tin came from small-scale mines.
Apple said it would be "lazy" to refuse all tin supplies from Indonesia, and that it was actively trying to alter the situation.
Read next