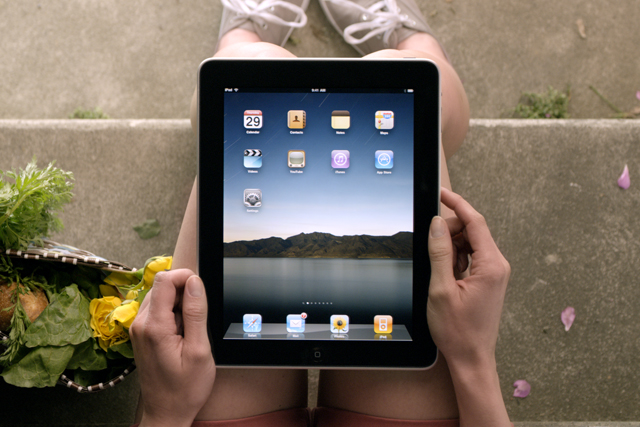 The eight UK brands in last year's BrandZ top 100 lost 10% of their collective brand value, with Shell the only one to climb the table and Barclays dropping off the list.
By contrast, the top five global brands increased their brand value by 10%, with Apple's 19% increase to $183bn increasing its lead at the top.
Google dropped 3% to $107.9bn and lost second place to IBM, which benefitted from a 15% boost to $116bn.
McDonald's cemented its hold on fourth place, rising 15% to $95.2bn, while Microsoft stayed in fifth with a value of $76.7bn.
Vodafone, the most valuable UK brand, held on to 12th place despite a 1% fall in value to $43bn.
HSBC is the second most valuable UK brand, but its value decreased by 14% to $19.3bn and it dropped from 28th to 31st place.
It was overtaken by Facebook, which climbed from 35th to 19th after a 74% increase to $33.2bn.
Tesco fell from 31st to 36th place after its brand value declined 18% to $18bn, nearly meeting Shell coming the other way with a 17% increase to $17.8bn.
BP fell 17% to $10.4bn, Standard Chartered fell 16% to $10.1bn but O2 suffered most, plummeting 27% to $8.6bn.
There were brighter performances from smaller UK brands outside the top 100, including Dove, up 23% to $4.7bn and Burberry, up 21% to $4bn.
Tim Wragg, European CEO at Millward Brown, said: "The ubiquity of technology in our daily lives is more evident than ever this year as brand winners like Facebook, Apple and IBM grow from strength to strength and technology brands dominate the rankings."
The BrandZ study, now in its seventh year, combines measures of brand equity based on interviews with over 2 million consumers globally with data on companies' financial and business performance.
Millward Brown EMEA managing director Nick Cooper's view on the results:

"We've seen UK brands decline over the last two years, but in fact since we began the rankings in 2006 UK brands have grown by 84% [in value] while the top 100 has grown by 66%. So even with the recent falls UK brands are as it were ahead of the curve.

"I think that the decline we have seen in recent years is a reflection of the UK economy and the European economy being difficult.

"Vodafone is very much a global business, they've managed to offset difficulties in Europe with opportunities in Africa and India. O2 is a brand that only exists in Europe – the fundamental problem for them is you've seen consumers trying to cut back a bit and regulators trying to address the issue of charging.

"The other thing is a lot of sectors where UK brands excel have also had their own difficulties. We've got a lot of top brands in banking and that is a very difficult sector indeed. We've also got oil, which has had its troubles, and retail, where lots of retailers are struggling.

"I don't think it's a long-term trend but I do think it's a warning shot as to what the UK economy and UK brands need to do. But there's lots of evidence to show the big brands like Vodafone, HSBC and Tesco are international if not global and increasingly globalising their operations. It's a question of are they doing it fast enough and some would say they are and some would say they need to speed up.

"There are two UK brands I would pick out as riding the globalisation trend, though they are not in the top 100. One is Burberry, which is a significant success story. That is not only riding the wave of emerging markets, it's also utilising technology – the internet and social media - to very good effect.

"The other one is Guinness. While it's facing challenges in Europe it's got a very large business in particular in Africa. It's done extremely well there.

"Another thing that has struck me this year is we have an African brand for the first time [MTN at number 88]. It's a reflection of how Africa has turned around. It's one of the fastest growing regions of the world. Brands from all over the world are investing there. Maybe the Chinese got there first but now Western brands are doing the same and indeed some UK brands – not only Guinness but HSBC and Vodafone."
Follow Daniel Farey-Jones on Twitter @danfareyjones
League Tables
Millward Brown BrandZ Top 100 2012
Rank Change
#
Brand
Brand Value 2012 ($M)
Brand Value Change '12 vs. '11 (%)
0
1
Apple
182,951
19%
1
2
IBM
115,985
15%
-1
3
Google
107,857
-3%
0
4
McDonald's
95,188
17%
0
5
Microsoft
76,651
-2%
0
6
Coca-Cola
74,286
1%
1
7
Marlboro
73,612
9%
-1
8
AT&T
68,870
-1%
4
9
Verizon
49,151
15%
-1
10
China Mobile
47,041
-18%
-1
11
GE
45,810
-9%
0
12
Vodafone
43,033
-1%
-2
13
ICBC
41,518
-7%
2
14
Wells Fargo
39,754
8%
5
15
Visa
38,284
34%
1
16
UPS
37,129
4%
-2
17
Walmart
34,436
-8%
-4
18
Amazon
34,077
-9%
16
19
Facebook
33,233
74%
-1
20
Deutsche Telekom
26,837
-10%
5
21
Louis Vuitton
25,920
7%
1
22
SAP
25,715
-1%
7
23
BMW
24,623
10%
0
24
China Construction Bank
24,517
-4%
4
25
Baidu
24,326
8%
-8
26
HP
22,898
-35%
-5
27
Oracle
22,529
-16%
-1
28
Toyota
21,779
-10%
31
29
MasterCard
20,759
53%
10
30
American Express
20,198
18%
-3
31
HSBC
19,313
-14%
39
32
Hermes
19,161
61%
-1
33
Gillette
19,055
-4%
7
34
ExxonMobil
18,315
8%
-1
35
Pampers
18,299
-5%
-5
36
Tesco
18,007
-18%
15
37
Tencent/QQ
17,992
19%
5
38
Agricultural Bank of China
17,867
6%
12
39
Shell
17,781
17%
-1
40
RBC
17,225
0%
-20
41
Movistar
17,113
-37%
30
42
Starbucks
17,072
43%
-5
43
Disney
17,056
-1%
13
44
Nike
16,255
17%
4
45
Accenture
16,118
4%
4
46
Mercedes-Benz
16,111
5%
1
47
NTT DoCoMo
15,981
3%
-3
48
Budweiser
15,882
0%
9
49
Intel
15,633
12%
-14
50
Orange
15,351
-13%
4
51
Colgate
14,948
5%
2
52
Subway
14,843
4%
-20
53
China Life
14,587
-25%
-12
54
TD
14,561
-14%
12
55
Samsung
14,164
16%
New
56
Sinopec
13,940
N/A
-11
57
L'Oreal
13,773
-12%
4
58
H&M
13,485
4%
-15
59
Cisco
13,317
-18%
New
60
Commonwealth Bank
13,083
N/A
-24
61
Bank of China
12,982
-26%
27
62
The Home Depot
12,968
31%
-10
63
ICICI Bank
12,665
-15%
18
64
ebay
12,662
18%
-9
65
Honda
12,647
-11%
20
66
Zara
12,616
22%
-4
67
Pepsi
12,598
-3%
10
68
Petrochina
12,105
7%
New
69
Moutai
11,838
N/A
3
70
FedEx
11,723
0%
New
71
Airtel
11,531
N/A
12
72
US Bank
11,488
9%
-3
73
Siemens
10,676
-11%
25
74
Sberbank
10,649
25%
-14
75
Petrobras
10,560
-21%
-11
76
Target
10,506
-16%
-13
77
BP
10,424
-17%
5
78
Ping An
10,174
-3%
-10
79
Standard Chartered
10,064
-16%
13
80
Red Bull
9,984
8%
7
81
Nissan
9,853
-2%
-35
82
Citi
9,760
-38%
4
83
Scotiabank
9,627
-4%
-9
84
Telecom Italia
9,572
-18%
-5
85
MTS
9,553
-12%
-1
86
Sony
9,444
-10%
7
87
ALDI
9,310
1%
New
88
MTN
9,273
N/A
New
89
IKEA
9,206
26%
1
90
China Telecom
9,191
-4%
New
91
KFC
8,852
8%
-24
92
Chase
8,644
-28%
New
93
Chevron
8,599
6%
-20
94
O2
8,562
-27%
-18
95
Santander
8,546
-25%
New
96
Volkswagen
8,519
15%
-21
97
Telcel
8,449
-27%
-39
98
Carrefour
7,836
-43%
New
99
State Farm
7,813
-7%
New
100
DHL
7,601
N/A
* The Brand Value of Coca-Cola includes Lights, Diets and Zero
** The Brand Value of Budweiser includes Bud Light
*** The Brand Value of Pepsi includes Diets
**** The Brand Value of Red Bull includes sugar-free and Cola
***** The Brand Value of Sony includes Playstation 3
Source: Millward Brown Optimor (including data from BrandZ, Kantar Worldpanel and Bloomberg)