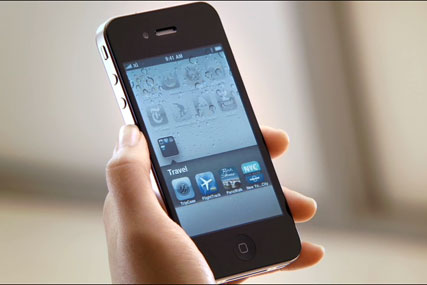 Big brands such as AT&T, Best Buy, Unilever and Chanel will all kick off the launch with mobile ad campaigns.
The advertising network will be built into the new operating system for the iPod Touch and iPhone 4, which was unveiled by Apple chief executive Steve Jobs in San Francisco yesterday.
The new system allows users to stay within their app while engaging with an ad, watching a video or playing a game.
Apple said it has iAd commitments for 2010 totalling more than $60m, almost 50% of the total forecasted US mobile ad spending by JP Morgan for the second half of 2010.
The technology giant will sell and serve the ads, and app developers will receive an industry-standard 60% of advertising revenues.
After a few technical hitches on stage at the Worldwide Developers Conference in San Francisco, Jobs was able to showcase the iPhone 4 that will launch in the UK on 24 June.
It is 24% thinner than the latest iPhone model, the 3GS, and includes a 5- megapixel camera with LED flash on the back. Using a front-facing camera, the iPhone 4 will also allow users to see their callers and visa versa.
Described by Jobs as 'the biggest leap since the original iPhone' the new smartphone includes multitasking, folders, enhanced mail and deeper enterprise support.
Jobs said: "iAd offers advertisers the emotion of TV with the interactivity of the web, and offers users a new way to explore ads without being hijacked out of their favourite apps."
He added: "iAds will reach millions of iPhone and iPod touch users – a highly desirable demographic for advertisers – and provide developers a new way to earn money, so they can continue developing free and low cost applications."
Read more on Brand Republic's digital blog The Wall
The iPhone 4: is anyone as good at marketing as Apple?