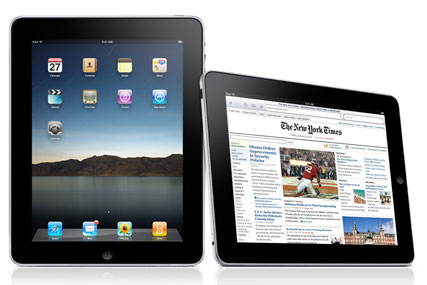 Meanwhile, pubilshers have released details of pricing and launch sponsors for their iPad editions.
Twitter has been abuzz today (29 March) with reports that customers have received emails from Apple telling them their devices are coming via UPS.

There have been reports that the iPad could be delayed and not ship until 12 April. However, according to reports, Apple has confirmed that the iPad will be on sale in all 221 of its US retail stores and many Best Buy outlets on Saturday.

However, availability is said to be limited, with only a handful of devices initially available in each store.
UK technophiles will have to wait an extra three weeks from the original launch date Apple gave of 3 April.
There are also reports on MacRumors of a separate Apple iPad store. The website has what its says is a screenshot showing some of the iPad apps that will be available at launch, while MacStories has a video featuring the store working.

Apps shown on MacRumors include the flight simulator game Flight Control, OmniGraffie, Brushes, Real Racing, travel price comparison site Kayak, and Reuters Pro.

Publishers including Time, The New York Times, The Wall Street Journal and the Financial Times, are also readying their iPad editions, with advertisers showing a keen interest in the launch.

Time plans to offer its US print issue for $2.99 and will add video, international content and more pictures, all taken from its Time.com website. Time Inc will follow its Time app with one for Sports Illustrated in June. Rival Hearst will offer its Esquire app for $2.99, which is $2 cheaper than its magazine cover price.

The WSJ will charge $17.99 a month for its iPad application, while the Financial Times will be free and based on the same business model as the FT iPhone app. This allows users 10 free articles a month before asking them to subscribe. The iPad app, however, will be free for two months as part of a sponsorship deal with luxury watchmaker Hublot.

Time has signed up a number of launch advertisers, including Unilever, Toyota, Korean Air and Fidelity Investments.

The WSJ has Capital One, Buick, Oracle, iShares and FedEx on board as launch advertisers.

Fedex has shown a lot of interest in iPad advertising. As well as being a WSJ launch advertiser, it will also advertise on the Reuters iPad app and will be the exclusive advertiser on Newsweek's iPad edition for 90 days.

Like the FT, The New York Times has signed a single 60-day launch sponsor in high-end credit card firm Chase Sapphire.