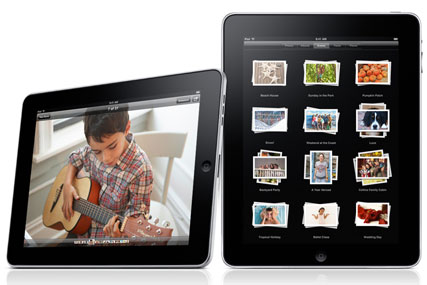 Apple said in a statement that it has been faced with "surprisingly strong US demand" and has taken the "difficult decision to postpone the international launch of the iPad by one month".
The business will announce its international pricing on Monday, 10 May, when it will also begin to take pre-orders for the touchscreen tablet in the UK.
O2, which had the exclusive on the iPhone for two years, said it would offer pricing plans for all models of the iPad from the end of May in the UK. Vodafone issued a statement to the same effect but also covering Australia, Germany, Italy and Spain, while Orange said it would cover the UK, France, Spain and Switzerland.
Currently the iPad in the US retails at $499 for the basic 16GB, Wi-Fi-only iPad, with prices rising to $829 for the top-of-the range 3G model.
Apple has already delivered 500,000 iPads to US customers, selling more than 300,000 on the first day of sale on 5 April.
Users downloaded more than a million apps for the iPad in the first 24 hours, along with 250,000 ebooks from the iBookstore.