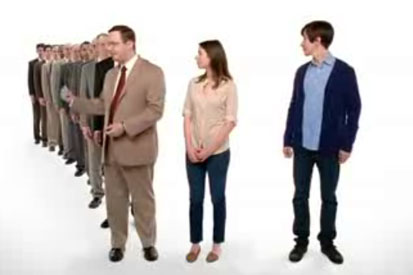 Microsoft, now branding itself as a budget-friendly option, has been beckoning Apple for retaliation with its latest marketing campaign, created by Cripsin Porter + Bogusky.
A recent ad for Zune Pass, although interestingly not for the Zune itself, claimed that filling a 120GB iPod with music from the iTunes store would cost $30,000, whereas the Zune Pass enables unlimited downloads for a $15 monthly fee.
The ad has been slammed online for its confusing rationality and poor execution, and seemed for the most part largely ignored by Apple.
Microsoft's newest 'I'm a PC' campaign, dubbed 'Laptop Hunters' expands on the same penny-pinching zeal.
The ad series follows a group of prospective computer shoppers, each with $1,000 in their pockets, who set out to purchase a laptop based on their personal requirements and are allowed to keep any remaining cash. Cue predictable results.
The ads, all five of them, have been picked apart by Apple fans online, citing the same inane logic as 'Zune Pass '.
But if Microsoft wanted Apple's attention, then perhaps the campaign can be deemed a success - Steve Jobs and co have finally struck back.
In a rare show of emotion, Apple has aimed directly at 'Laptop Hunters' in the most recent rehash of its 'Get a Mac' ads.
The ad depicts PC John Hodgman and Mac Justin Long with a red haired woman, imitating Lauren from 'Laptop Hunters', who is looking for a computer to suit her specifications.
A line of potential PC's stand behind Hodgman as the woman lists off her laptop requirements, who are soon disqualified by her own laptop hunt.
Finally the woman asks for "something that works", causing the remaining PC's to exit the screen, leaving her with Mac, in typical smug Apple style.
Microsoft, the ball is in your court.
Microsoft's Laptop Hunters
Apple's Elimination