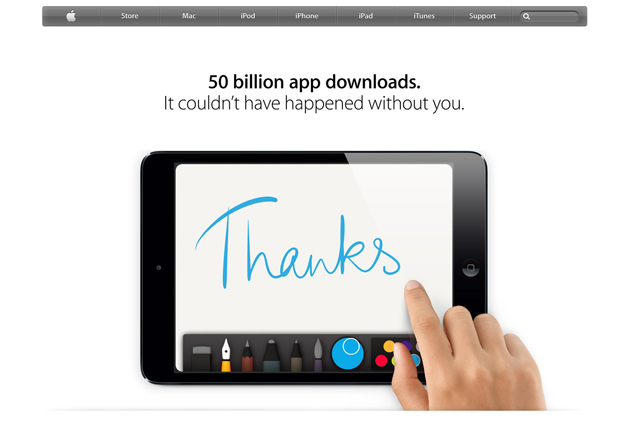 A few hours ago, one lucky person won a $10,000 App Store gift card for downloading the 50 billionth app from the App Store.

Ignoring for the moment the space that person is going to need on their iPhone, it does highlight that the meteoric rise of apps shows no obvious signs of slowing down. In fact, downloads have doubled from the App Store in just 14 months. And whilst Google appear to trail slightly with 48bn downloads, that is only from Google Play and doesn't account for all Android stores from other providers. The number could easily be 50% higher again.
However, as the app marketplace accelerates forward, it is also becoming overcrowded and difficult to achieve for developers to achieve standout. You could argue that the honeymoon period is now over for brands. Only those serious about investing in valuable experiences will achieve success.
With an oversupply of apps, consumers are beginning to become more discerning when it comes to downloading, questioning how often they think they'll use an app. One marketer said to me recently, "We had incredible success from one of our game apps two years ago, but we could never achieve that number of downloads again in the current market".
Success stories from games such as Temple Run (with other 75m downloads) hide the hard truth that downloads and revenue are unevenly distributed, with only a small proportion of apps hitting the tipping point and staying in the charts for any length of time.
The post-honeymoon period is also characterised by a much higher bar for build quality and support. It is no longer enough to rush out a low-quality app as part of an advertising campaign. In some cases, your app maybe competing with 100-person development teams, chasing large revenue opportunities. Not only does your app need to make the grade from an initial build, it also needs to be maintained with improvements and bug fixes for new OS updates across every platform you have built for.
However, none of the above should put off those brands serious about creating engaging experiences for consumers. Rather, it should signal the need to elevate mobile app development to a cornerstone of your digital strategy.
In doing so, it is worth remembering some key pointers for success:
1 - Utility over advertising
Start by thinking about how you can create new value for people by improving their lives in some way. Be useful, be entertaining or ideally be both. Just don't think of mobile apps as part of an advertising campaign. Think of them as the subject for an advertising campaign.
2 - Experiences not apps
People want great brand experiences, across devices. So rather than focusing on the isolated app alone, it is worth thinking about how to deliver a connected brand experience with mobile playing a specific but key role.
3 - Brand authenticity matters
There is a compelling argument that the native app market may disappear over the next five years

.
In an overcrowded marketplace, many apps are copies of one another or variations on a theme. It is of paramount importance that an app and its experience is true to the brand, making it unique and not so easily replicated.
4 - Design for repeat usage
The number of app downloads are important to achieve that viral effect in the charts (see below), but repeat usage is a much better indicator of an apps usefulness to your audience. Of course, this will also have a direct effect on reviews of the app.
5 - Invest in marketing
It sounds obvious, but so many brands make the mistake of developing an app yet not giving enough thought and budget to marketing the app, putting them at a disadvantage from other apps developers. Many of these use significant investment in the dark art of seeding apps to chart in the top 20 in that all-important first two weeks.
6 - Leave the marketplace altogether
There is a compelling argument that the native app market may disappear over the next five years. The development community would say that HTML5 web apps can do everything native mobile apps can do, but without the need for download. The Financial Times is one of the most high profile businesses turning its back on the App Store and launching a very successful web app.