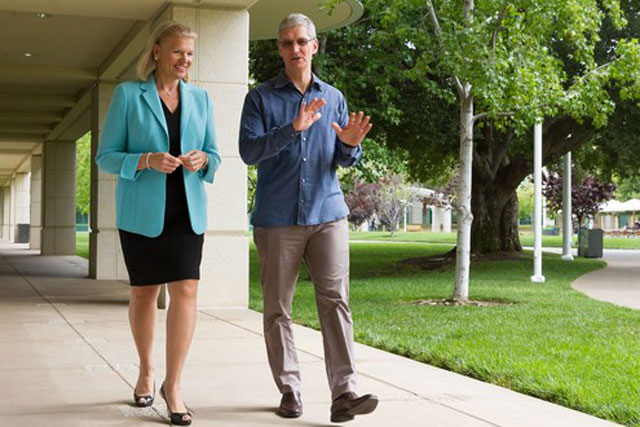 The deal is a clear challenge to brands more dominant in the B2B sector, most notably Microsoft, whose chief executive Stya Nadella told staff this month that their aim should be to "reinvent productivity" and "change the world".
IBM, a computer manufacturer until it sold its PC business to Lenovo Group in 2005 and repositioned itself as a software and business consultancy, used to be Apple's arch rival. In the 1980s, upstart Apple depicted IBM as a Big Brother tyrant in an ad named after Orwell's dystopian classic '1984'.
IBM, which no doubt hopes the deal will help it turn around declining revenues, will create more than 100 business applications exclusively for iPhones and iPads.
Tim Cook, Apple's chief executive, said: "For the first time ever we're putting IBM's renowned big data analytics at iOS users' fingertips, which opens up a large market opportunity for Apple. This is a radical step for enterprise and something that only Apple and IBM can deliver."
Ginni Rometty, IBM's chairman, president and chief executive, added: "Mobility – combined with the phenomena of data and cloud – is transforming business and our industry in historic ways, allowing people to re-imagine work, industries and professions.
"This alliance with Apple will build on our momentum in bringing these innovations to our clients globally, and leverages IBM's leadership in analytics, cloud, software and services."