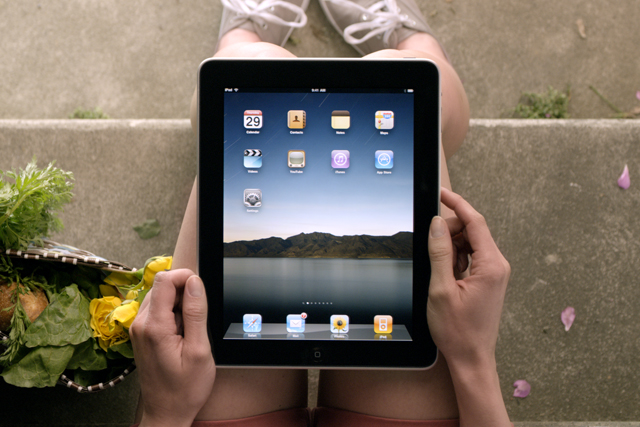 Invitations were distributed prior to Google's Eric Schmidt keynote speech at Barcelona's World Mobile Congress yesterday (Tuesday).
The invitation features what appears to be an iPad screen, with a finger poised above the date 7 March and the words "We have something you really have to see. And touch".
Deliberately vague wording on the invitation has sparked a frenzy of speculation, almost all coming to the conclusion that the iPad 3 will be launched.
Naturally, Twitter was ablaze with the news and the topic swiftly became the top trending topic.
Gizmodo contests that the invitation is the new iPad, "hiding in plain sight", with an obsessive analysis of the spacing of icons, where the wallpaper droplets fall and most importantly the screen resolution on the invitation image.
It concludes the new iPad will have a very high resolution Retina screen (as used on the iPhone 4 and 4S), and may have dispensed with the home button.
Mashable claim to have confirmed the story, despite no attribution, but wonders what the new features might be, and asks readers to speculate.
The Apple rumour mill site 9to5Mac claims the iPad 3 could be incidental to a bigger launch, of a seriously revamped and beefed-up Apple TV service codenamed the J33.
The site also speculates that three separate versions of the iPad 3 could be announced, but don't say what these variations might be.
Techradar has pulled together a series of rumours and tip-offs going back several months to piece together a speculative specification for the iPad 3.
Big tips are an ARM A6 processor, a revamped operating system, known as iOS 5.1 and more battery life.
Finally, the Daily Mail predicts the new iPad will cost around £50 more than the current iPad 2.