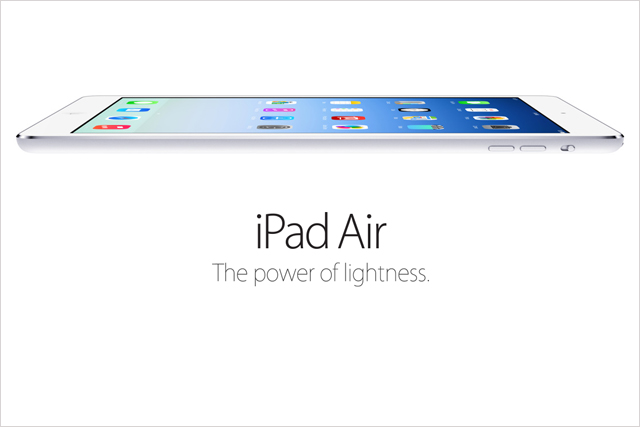 The iPad Air boasts a 9.7in display and is 20% lighter than the fourth generation iPad, while a new iPad Mini also features Apple's "retina" high-resolution display. Both tablets use the A7 chip found in the iPhone 5S.
Apple has priced iPad Air at £399, with the new iPad Mini at £319. The older iPad Mini will be offered at a "more affordable" price of £249, as the brand looks to challenge mid-market leaders such as Samsung.
Philip Schiller, Apple's global senior vice president of marketing, said: "iPad created an entirely new mobile computing experience, and the new iPad Air is another big leap ahead. It is so thin, light and powerful, once you hold one in your hand you will understand what a tremendous advancement this is."
The release of iPad Air and iPad Mini help shore up Apple's leading position in the desirability stakes, argues Nadeem Khalid, business analyst from digital agency TH_NK.
Khalid. said: "While expected, the announcement of the Retina display iPad Mini 2 alongside the new iPad Air, Apple continues to occupy the technological and aesthetic high ground.
"Competitors such as Google and Samsung may be quick to gain technological parity, but will continue to struggle to compete with Apple's ecosystem, ease of use and in the clarity of purpose stakes.
"Thinner, lighter and faster may not be radical enough for some, for the majority of consumers and indeed the press, the iPad line will continue to be number one in the desirability stakes."
Jason Kingsley, chief executive of games developer Rebellion and chairman of TIGA, trade association representing the UK's games industry, is similarly enthused, describing iPad Air as "very exciting".
He said the growing "ubiquity" of iPhone and iPads, coupled with "big game IP", could boost Apple's TV service. "With Apple's marketing clout and reputation, competitors need to roll up their sleeves and work hard to compete."