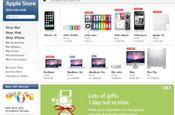 The sale follows a lacklustre sales in the run up to Christmas as consumers grapple with the impact of the economic downturn, job insecurity and the rising cost of living.
The online sales include £60 off the price of a MacBook, £5 off an iPod nano, and £11 off an iPod touch. A spokeswoman for Apple said the it would be a 'one day only special event'
The computer brand is the latest retailer to resort to heavy discounting to attract consumers. Marks & Spencers, Debenhams and House of Fraser have all launched limited promotions - with discounts of up to 25% off.
This morning shops in the West End opened at 7am in a bid to beat the credit crunch blues not only offering consumers heavy discounts but free breakfasts to help kick start their day.