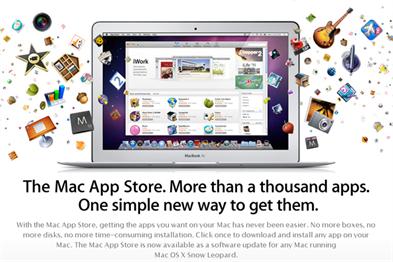 The apps, which are similar to those offered for Apple devices such as the iPhone, iPad and iPod, can be bought via the iTunes store for use on Apple Mac computers.
The store offers thousands of apps, including the game Angry Birds, exercise app rubiTrack and design app Sketchbook Pro, as well as apps for popular, existing software, such as iPhoto and GarageBand.
The apps follow the same revenue split as iOS apps, with developers receiving 70% of sales on paid-for apps and Apple taking the remainder.
Within 24 hours of its launch in January this year,
the Mac App store received more than one million downloads
.
In total, there are 500,000 Apple apps, and it has 18 billion app downloads to date.
Philip Schiller, senior vice president of worldwide marketing, said: "In just three years the App Store changed how people get mobile apps, and now the Mac App Store is changing the traditional PC software industry."
The news follows Google's announcement last week
that its Android mobile app downloads had hit 10 billion
.