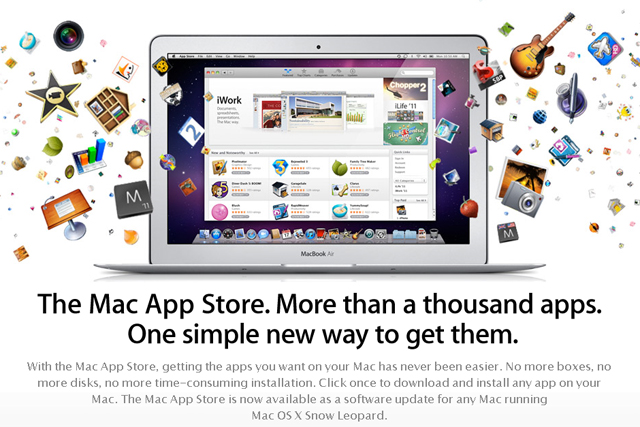 The new store, which has rolled out across 90 countries, is similar to the app store for the iPhone and iPad and requiries an iTunes account to make purchases.
It contains more than 1,000 apps at launch, including the game Flight Control HD, exercise app rubiTrack and design app Sketchbook Pro.
Apple has also created apps for popular, existing software, such as iPhoto and GarageBand.
Steve Jobs, chief executive at Apple, said: "The App Store revolutionised mobile apps and we hope to do the same for PC apps with the Mac App Store by making finding and buying PC apps easy and fun."
Mac developers set their own price for the apps and keep 70% of the sales revenue.
In December last year, Apple rolled out its iAds platform in Europe, allowing advertisers to serve content rich advertising on iPhone and iPads without having to leave the app.
Amazon is planning to launch its own app store for Android apps. Earlier this week, the online retailer rolled out its 'Appstore Developer Portal,' which allows developers to submit android apps ahead of the Amazon Appstore's launch.