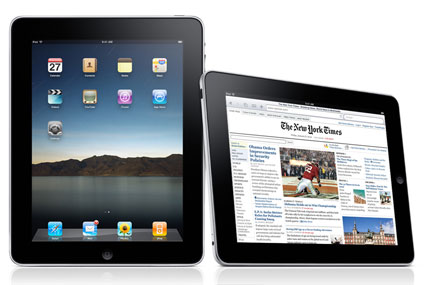 Apple is taking pre-orders for the touchscreen tablet that will retail in the UK between £429 for 16GB and £699 for a 64GB iPad.
It will be available in the UK and 27 other countries including Germany, France and Italy from 28 May. However customers will only be able to purchase a maximum of two iPads per order.
O2 announced today that all iPad data tariffs will be available without a long contract and include unlimited access to BT Openzone and The Cloud Wi-Fi hotspots for free. Pay & Go 3G broadband tariffs from O2 will start from £2 a day to £15 a month.
The other major UK sellers of the iPad, including Vodafone and Orange, have yet to announce price plans.
Apple was forced to delay the launch of the iPad in the UK until the end of May because of high levels of demand in the US. In the US, Apple has already sold over one million iPads, selling more than 300,000 on the first day of sale on 5 April.
Customers have also downloaded over 12 million apps from the App Store, as well as over 1.5 million ebooks from the new iBookstore.
The iPad allows users to browse the web, read and send email, share photos, as well as watch HD videos, listen to music, play games and read ebooks.
Full pricing details of the iPad are available on the Apple website.