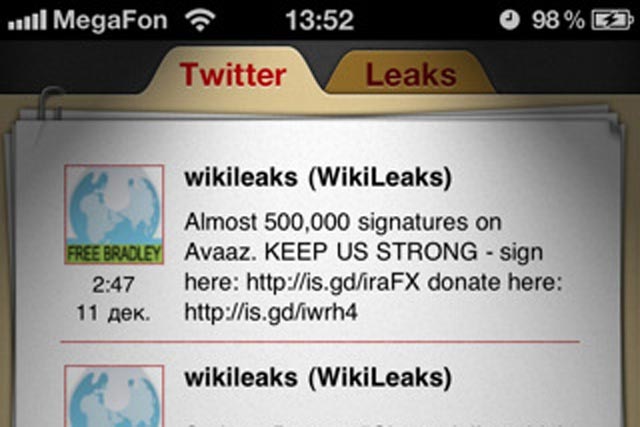 Developed independently by Russian-based Hint Solutions, the app was posted on the iTunes app store on 18 December. It was on sale for $1.99 (£1.28) and could be used to search both the Wikileaks Twitter feed and the Wikileaks database.

However, the app has now been removed. A statement on the apps's page said: "The Wikileaks app gives instant access to the world's most documented leakage of top secret memos and other confidential government documents.
"The Wikileaks app reflects old and recent cable updates, WikiLeaks Tweets and the WikiLeaks Website completely formatted for iPhone and iPad.
"Internet democracy requires funds to stay strong. By purchasing the Wikileaks app, you donate one dollar of the purchase price towards organisations that work to promote the future of online democracy."
Developer Igor Barinov, on his Twitter feed, confirmed that the app had been removed. At first he claimed it had been removed for "no reason", but then he said: "App wasnt sell content for 1.99. An app was made to browse public available information (twitter and...)[sic]."
Apple has strict rules for app pricing, and freely available content should not be available through a paid-for app.
Wikileaks prompted a storm of controversy following the rolling publication of some 250,000 classified US diplomatic cables on its website, with key news filtered through newspapers The Guardian, El Pais, Der Spiegel, The New York Times and Le Monde.
The organisation has used a variety of different hosts for its website, including Amazon, as pressure has forced them to move. Payment companies including PayPal, Mastercard and Visa have refused payments to Wikileaks, prompting disgruntled hackers to attack them.
Julian Assange, Wikileaks' founder, is under house arrest in Norfolk, while he fights an extradition order to Sweden where he is wanted to answer questions relating to alleged sex crimes.
In its brief life on the iTunes app store, it was downloaded 4,434 times with a quarter of downloads in Germany, and Barinov has pledged $4,434 to Wikileaks.
No one from Apple was available to comment.