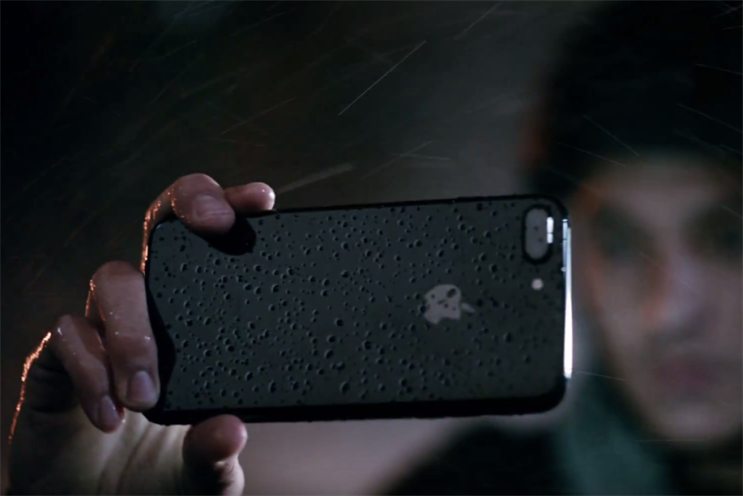 The world's biggest company by market value also saw record sales for the iPhone, as well as posting revenue records for the Mac computer and its services business.
Apple sold 78.29 million iPhone units in the three months to 31 December, an increase of 5% from 74.48 million a year before.
It reported revenue of $54.38bn from iPhone sales, along with $7.24bn from the Mac, $5.5bn from the iPad and $4.02bn from other products, including the Apple Watch.
Apple's services division, which includes the App Store, Apple Music and iCloud, posted revenues of $7.17bn and is now close to overtaking the Mac as the tech giant's second biggest source of revenue.
There were $3bn in overall Apple Store purchases in December 2016 alone, which chief executive Tim Cook said was Apple Store's best-ever single month of trading.
Apple Pay, the service which enables Apple devices to make payments, has more than tripled its user base in the past year and had hundreds of millions of transactions and billions of dollars in purchases in the December quarter alone.
International sales accounted for 64% of the quarter's revenue, with every region growing in revenue apart from China, which was down 12% year on year to $16.23bn. Revenue in Europe was up 3% to $18.52bn and up 9% to $31.97bn in the Americas.
Apple shares rose 3% in after-hours trading following the results, which will come as a tonic for the company after suffering three quarters in a row of falling revenue before now. Mounting competition and slowing business in China contributed to Apple posting its first fall in quarterly revenue since 2003 last April.
Cook said: "We're thrilled to report that our holiday quarter results generated Apple's highest quarterly revenue ever, and broke multiple records along the way. We sold more iPhones than ever before and set all-time revenue records for iPhone, Services, Mac and Apple Watch."
"Revenue from Services grew strongly over last year, led by record customer activity on the App Store, and we are very excited about the products in our pipeline."