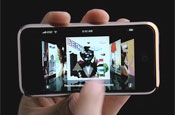 The company has filed an application with the United States Patent and Trademark Office, covering among other things 'hand-held units for playing electronic games; hand-held units for playing video games; stand-alone video game machines; LCD game machines; electronic educational game machines and toys'.
Rumours of Apple's entry into the electronic gaming market have been circulating for months, alongside reports that it has recruited teams of games developers.
The fifth-generation iPod comes with three games playable using the click wheel as a controller. Further games for it from firms, including Sega, are available from iTunes costing £3.99 to download.
However, some industry insiders have suggested that Apple plans to upgrade the iPod to a full games console to compete against the Sony PlayStation Portable and the Nintendo DS.
Apple, whose ad and media accounts are held by TBWA\London and MGM-OMD respectively, spent £23.4m on offline media last year.
Apple refused to comment on the patent and trademark application.