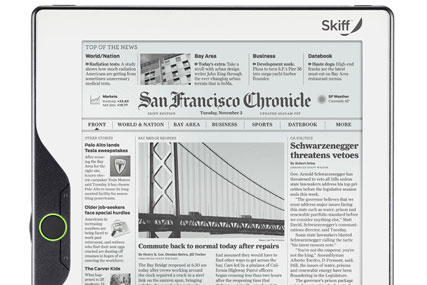 According to a report in the Wall Street Journal the device will be shown at an event in San Francisco during the last week of January, but will not ship until March.

The device will have a touch screen display, the same as the iPhone, and be 10- to 11-inch in size, similar to a netbook computer.

Apple's tablet will not only act as an e-reader for books, magazines and newspapers, but will play video, games and surf the web underscoring Apple chief executive Steve Jobs' ambition to carve out a new market.

The launch of the tablet is said to have been Jobs' main focus since he returned to work after a six month medical break.

Last month it was reported that Apple had been talking to book publishers about putting their content on an e-book platform.

Apple is also thought to have had meetings with magazine publishers a number of which are working on e-reader and tablet demos including Condè Nast and Time Inc, owners of Wired and Sports Illustrated respectively.

The WSJ reports that Apple is working on two different finishes for the tablet although there is no news as to whether this could spell multiple versions at different prices.

As well as the size and functionality the other main area of speculation has been price. Indications are that it will be priced in line with Apple's recently redesigned MacBook, which officially retails for around $999 in the US and £816 in the UK.

On Monday Hearst unveiled its rival e-book reader known as the Skiff Reader, which will come with an 11.5 inch touch screen and will ship later this year. No price or date has yet been announced (view Skiff gallery).

Hearst said its reader would be "the first e-reader optimised for newspaper and magazine content" with access to the Skiff store, which will carry a range of newspaper and magazine content. It will weigh just over one pound and last over a week, on average, between charges.

In addition Skiff will be the first to use what is described as a "next generation e-paper display" based on a thin flexible sheet of stainless-steel foil. The display will apparently bend and be less susceptible to screen damage.

Both Apple's tablet and the Skiff Reader will do battle with Amazon's Kindle.

The online retailer said in a statement over Christmas that its e-reader had "become the most gifted item in Amazon's history".

It said that on Christmas Day customers purchased more Kindle books than physical books, but it gave no sales figures leading to speculation that sales of the device remain relatively modest.