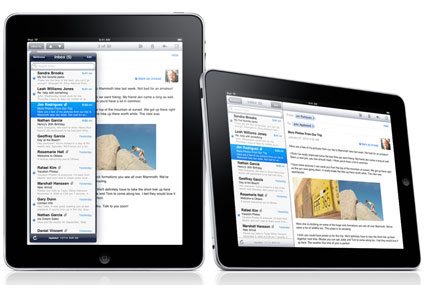 At a launch event in San Francisco, Apple chief executive Steve Jobs took the stage and declared that the iPad was the computer firm's most advanced technology, "in a magical and revolutionary device at an unbelievable price".

The launch has come after months of speculation and rumour about what Apple was planning and what it would deliver.

Most recently, bloggers and journalists alike were convinced Apple's tablet would be called the iSlate, but Jobs, whose reputation for secrecy and big bang marketing launches is legendary, kept all guessing until the end.

Apple is reported to have spent months in talks with an array of content partners including Condé Nast, Time Inc, Harper Collins, McGraw-Hill and the New York Times.
The New York Times was at last night's launch and unveiled its app for the iPad, but not the much talked of new content models and paid content. There were no magazine subscriptions on show and no mention of the talked of, web-based iTunes that could deliver micropayments. Everything showed at launch was free content.
Based on iPhone technology, and designed from the start to use apps for the iPhone, the new device is just 0.5 inches thick and weighs 1.5 pounds, making it thinner, lighter and cheaper than most laptop or netbook computers.

Jobs said the iPad was a new kind of device and that it represented a new category in the market, creating a space between a smartphone or a laptop computer.

"iPad creates and defines an entirely new category of devices that will connect users with their apps and content in a much more intimate, intuitive and fun way than ever before," Jobs said.

The iPad has a 9.7-inch screen and is designed to work using its multi-touch technology in portrait and landscape. Apple's head designer Jonathan Ive said the iPad had no up or down.

With its large screen and almost full-sized virtual keyboard, Apple describes it as "soft" and a "dream to type on", making reading and sending emails easy.

At launch, the iPad comes with access to the iTunes Store and a claimed 10 hours of battery life.

There will be two versions of the iPad available; one with Wi-Fi and the other with both Wi-Fi and 3G.

The iPad will be available in late March worldwide. The $499 iPad is the 16GB model; at $599 is the 32GB model, and the 64GB model is at $699.

The Wi-Fi + 3G models of iPad will be available in April in the US and selected countries with a price of $629 for the 16GB model; $729 for the 32GB model; and $829 for the 64GB model.

However, even at $499, the iPad is more expensive than Amazon's rival Kindle, which ranges in price from $259 to $399.

Despite the fanfare and anticipation, blogs were last night already full of posts about the iPad's shortcomings.

The lack of support for multitasking was a failing cited by blogs like Gizmodo Engadet, but the latter also said: "The screen is stunning...the speed of the CPU is something to be marvelled at. It is blazingly fast. Moving in and out of apps was a breeze".

James McQuivey, an analyst at Forrester Research, said that what Apple had delivered was a very nice upgrade to the iPod Touch, while Stephen Baker, an analyst at NPD Group, said he was not sure what the "killer app" was and what the reason is for buying this product.
Key iPad features
0.5 inches thin
Weight 1.5 pounds
Display 9.7 inches
Multi-touch screen
Can run all iPhone apps
Uses Apple's 1GHz A4 chip
Wi-Fi
More on Brand Repubic blogs