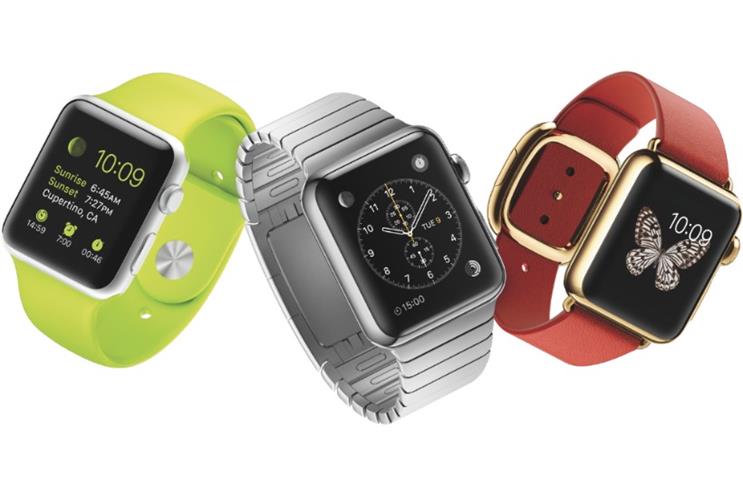 The event kicks off in California at 5pm UK time on Monday 9 March. Follow the latest news and announcements with Marketing's live blog below, which will start a little before 5pm.
---
---
Here's a round-up of what's known about the Apple Watch so far.
Change in marketing strategy
Apple's smartwatch is one of the brand's most significant launches in recent years, as the company hasn't experimented with a new product category since the first iPad in 2010.
Deviating from Apple's usual secrecy, CEO Tim Cook first revealed the company's smartwatch in September last year, alongisde the iPhone 6 and iPhone 6 Plus.
That marks a major shift in Apple's marketing strategy, which up until now has revolved around secrecy. Under former CEO Steve Jobs, Apple tended to keep new product lines quiet until they were completely ready for consumers. That helped build Apple's reputation for producing rabbits out of a hat, and releasing beautifully designed devices.
This time round, Tim Cook couldn't even be sure when the Apple Watch would hit the consumer market.
One reason Apple may have chosen to tease its smartwatch in advance is a relative lack of demand for wearable tech. At Mobile World Congress in Barcelona last week, Telefonica's consumer CEO, Stephen Shurrock, claimed ownership of wearables remains "low" and that devices were still "early" in terms of adoption. It's possible Apple teasing a new device in advance may create demand among its brand loyalists.
What we know
Apple has promised three Apple Watch models - standard, 'sport' and the pricier 'edition'. The vanilla Apple Watch will cost $349 in the US before tax, but the company hasn't confirmed pricing for the other models. Some speculate the Edition will cost as much as $10,000, equivalent to a Rolex.
Stratechery's Ben Thompson suggests Apple will justify the price tag by offering upgrades on the Edition, making it better and more cost-effective than servicing a luxury watch.
How can Rolex get away with selling a $10,000 watch that can't be upgraded?

— Ben Thompson (@monkbent) March 6, 2015
Apple is also hoping to appeal to consumers on the strength of its apps, with tailored services from American Airlines, BMW and Facebook, among others.
Those apps are, according to Cook, designed to interact intuitively with the Apple Watch's unique navigation feature, the digital crown. This is the side dial usually used to change the time on normal watches, but which Apple has designed as the main way to navigate the watch's interface.
Apple is expected to unveil more partner brands, specifics around pricing and availability, details on accessories and possibly updates to its Mac range of computers.