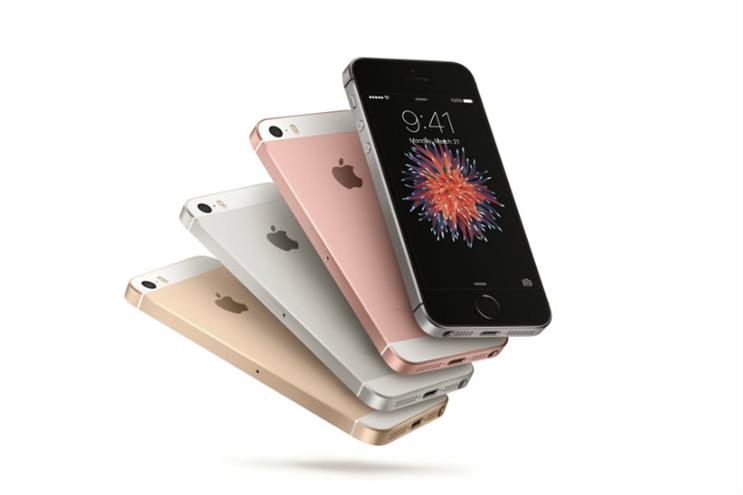 But this year, the company broke with tradition to launch the smaller, 4in iPhone SE as well as a new, smaller iPad Pro, updated iOS 9.3 software and new "woven nylon" straps for the Apple Watch (though there was no second-generation Apple Watch).
Here are Marketing's top takeaways from the launch:
Apple isn't done with 'cheap' iPhones


The last time Apple decided to try a 'cheap' iPhone, it came up with the iPhone 5C – the 'fun', colourful 4in device with lowly specs.
By Apple's standards, the iPhone 5C didn't do well. Tim Cook acknowledged in 2014 that demand for the cheaper phone was "different than we thought". There are a host of reasons for this, but the most obvious is that even the most dedicated Apple fans didn't want to shell out several hundred dollars for a sub-standard device.
Now there's the iPhone SE, which happily shares key hardware with the iPhone 6s, Apple's most recent iPhone. In appearance, the phone looks much like the iPhone 5 or iPhone 5s, meaning cheaper consumers don't actually have to feel cheap.
It starts at $399 for the 16GB model, compared with the iPhone 5C's starter price of $349. Arguably, a truly customer-centric Apple might offer a 32GB iPhone as the starting standard, but it's an acknowledgement that consumers who like smaller devices don't like to be treated as the poor cousins.
Apple's vice-president for iPhone and iOS marketing, Greg Jozwiak, said most consumers preferred the bigger iPhones, but an important base wanted smaller devices.
"For a lot of customers, it's their first iPhone," he said. "In China, it's the majority of customers' first iPhone."
In 2015, Apple sold 30m 4in iPhones, he added. It took the company two-and-a-half years to sell that many iPhones when it first launched the device.
Apple says its encryption fight is about customer-centricity
In his opener, Apple CEO Tim Cook touched on his company's legal fight with the FBI. Backed by tech heavyweights in Silicon Valley, Apple is currently fighting US government demands to backdoor its own software to allow the FBI access to an iPhone 5C used by one of the San Bernadino gunmen.
Cook showed no sign of backing down, despite mounting pressure. He stated the iPhone is an "extension of ourselves".
"We built the iPhone for you, our customers, and we know it is a deeply personal device," he said.
"We need to decide as a nation how much power the government should have over our data, and over our privacy. I've been humbled and deeply grateful for the outpouring of support we received from Americans across the country from all walks of life."
He added: "We did not expect to be in this position, at odds at our own government. We believe strongly we have a responsibility to help you protect your data, and protect your privacy. We owe it to our customers, and our country. This is an issue that impacts all of us. We will not shrink from this responsibility."
There's no new Apple Watch


It's been a year since the Apple Watch launched, and by Apple's usual product cycle, that means consumers are due an upgrade around now. But none was forthcoming, with Cook instead announcing a new range of 'woven nylon' bands.
The Apple Watch was, he said, the most popular smartwatch globally. A third of owners also regularly change the bands. It's undoubtedly cheaper for Apple to keep churning out new band designs than it is to bring out a whole new watch.
Apple's also cut the starting price of an Apple Watch to $299.
Apple launched a smaller iPad Pro


Last year, Apple launched the gigantic 12.9in iPad Pro. In case consumers didn't quite grasp how gigantic this was, Apple illustrated the tablet with pictures of Jupiter in its marketing materials.
Now the company's launched a more manageable version, still called the iPad Pro, and measuring 9.7in.
Phil Schiller, Apple's senior vice president of worldwide marketing, said: "Why make a second iPad Pro that's smaller?
"9.7in is large enough to get all your work done, but it's small and light enough to carry around on the go. The iPad Pro is the ultimate upgrade, the ultimate PC replacement."
For those who like to take iPad selfies, the new tablet comes with a better 12-megapixel camera, capable of shooting 4K video.
Apple turns 40 on 1 April