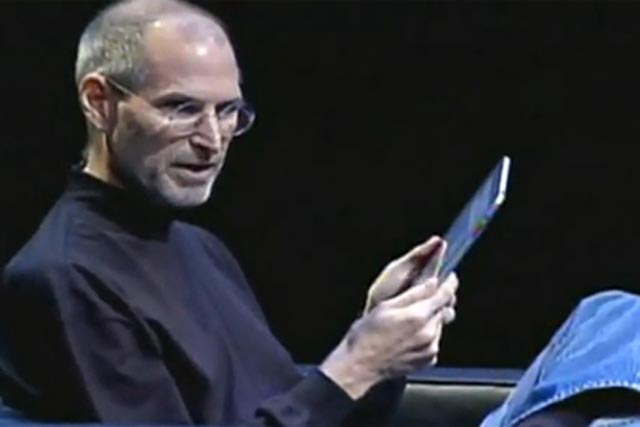 The company has reported revenues of $28.57bn (£17.7bn) in the three months to the end of June, compared to revenues of $15.70bn a year ago.
Net profits rose from $3.25bn to $7.31bn.
Apple said its net profit of $7.31bn was a quarterly record for the company, helped by selling more than 20 million iPhones (a 142% increase on the year) and more than nine million iPads (a 183% increase on the year) in the period.
The stellar sales of iPhones and iPads come despite heightened competition in the smartphone and tablet market.
Sales of Apple's iPod devices, however, fell by 20% – it sold 7.54 million iPod devices in the period.
Apple's overall performance has been aided by demand for its products in China and other newer markets.
Its financial results reveal that the company's international sales accounted for 62% of last quarter's revenue, with the remainder generated in the US.
Chief executive Jobs said: "We're thrilled to deliver our best quarter ever, with revenue up 82% and profits up 125%.
"Right now, we're very focused and excited about bringing iOS 5 and iCloud to our users this fall."
Apple unveiled its iCloud service in June. It allows users to automatically store and access content wirelessly across a range of Apple devices.
Increased sales of the iPad last month led to the chief executive of business software group MicroStrategy to claim the iPad was heading for a monopoly in the tablet market.
Michael Saylor said the big challenge ahead would be whether Android could perform well enough in the next six to nine months to establish a tablet in the market dominated by Apple.
Apple's stellar results came on the same day as The Wall Street Journal reported that some members of Apple's board had held discussions about Job's successor as chief executive of the company, with "executive recruiters and at least one head of a high-profile technology company".
However, the report claims people familiar with the talks suggest the discussions were an informal exploration of the company's options, rather than a hunt for a new boss. The talks didn't appear to be at the behest of the full board, the report added.