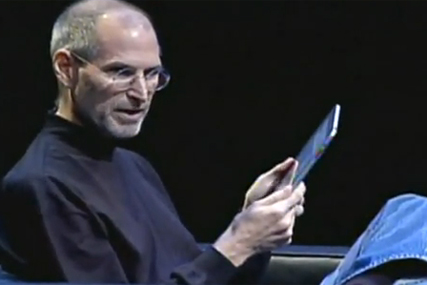 Many manufacturers, including Samsung, plan to launch tablet computers in the next six months and take on the market cornered by Apple's iPad.
But Jobs claimed that the seven-inch screen of those tablets so far announced would be too small for consumers to operate easily.
He said: "We think these seven-inch tablets will be dead on arrival. They'll learn the painful lesson that they're too small and have to expand them next year."
"You might think a seven-inch screen would have 70% of the size of a 10-inch screen [such as that of the iPad], but that measure is diagonal. In fact, it's only 45% of the area of an iPad screen. If you take an iPad and draw an imaginary horizontal line halfway along, that's the size of a seven-inch tablet display."
Jobs added: "The only way they're going to sell is if they come with sandpaper, because you're going to have to sand people's fingers down so they can work it. You can't run the software you need on a screen that small."
He also said that the existence of numerous online Android stores would make it much harder for developers to distribute apps, than it is through Apple's single iPhone and iPad store.
And the reason that PC manufacturers had so far failed to take on the iPad was down to their lack of specialist knowledge. "We've done everything from the iPad's A4 processor to the battery chemistry," said Jobs.
"We've learned a lot from the miniaturisation on iPods and iPhones. We're a very large-volume consumer electronics manufacturer. We're system architects, we know how to make products in an interesting way. This is a product we've been preparing for the past decade."
His criticism was not restricted to his rivals' tablet plans. He also said that Android's use on more than 100 handset models meant that its performance would be inconsistent across different handsets.
He also condemned Google's previous insistence that its Android software was "open" and that Apple's was "closed", describing Google's words as a "smokescreen". He added that Apple's integration of hardware with software made its products more effective.
Jobs was speaking to analysts on the day that Apple revealed its latest quarterly profits were up 70% year on year to $4.31bn (£2.72bn), thanks to the sale of 4.2 million iPads, 14.1 million iPhones and 3.9 million Macs.
He boasted that Apple's iPhone was now more popular than Research in Motion's BlackBerry (based on the latter's most recent quarterly sales of 12.1 million phones).
RIM also plans to take on the iPad and unveiled its seven-inch PlayBook in September.
Binatone was the first electronic brand to launch a tablet device to compete with the iPad, in August. Its budget HomeSurf tablet device, which runs on Google's Android operating system, costs £130.