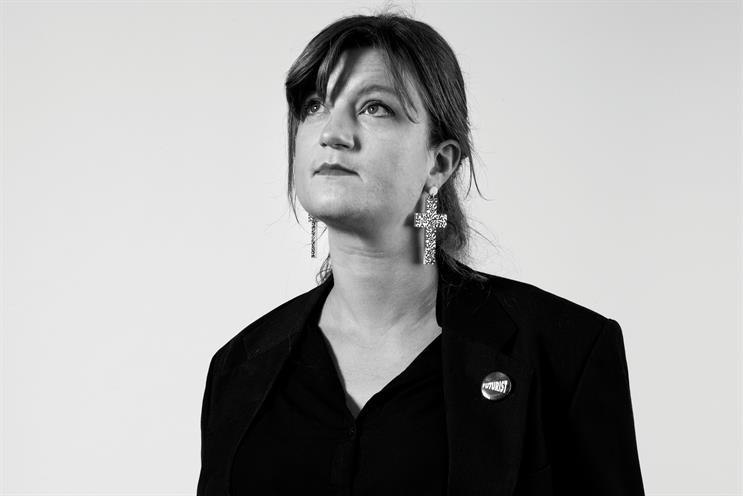 feature brought to you by DigitasLBi
If, when I was a teenager, you had told me that the manufacturers of women's sanitary products would be making a more meaningful contribution to the feminist agenda than our political leaders, I probably wouldn't have believed you. Ads for tampons and towels back then were promotions for a world of perfectly groomed young ladies who definitely hadn't read The Beauty Myth.
But between Whisper's "touch the pickle" in India and Always' "#LikeAGirl" in the US, it seems the tide has turned, if you'll pardon the pun. The brands that told us periods were there to be disappeared so that you could get on with rollerskating and holding hands with boys have taken a position with provocative content that I don't just wish I'd made but wish I'd grown up with.
The difference is right there in the brand pyramid, of course. When brands existed to impress people with the USP of how they fixed stuff, then the cultural context of what was being fixed was just a distraction from the super-absorbent layer. But we live in an age in which brands are expected to live up to a purpose – because fixing things is no longer worth a premium.
It seems, however, that these ads are still considered the exception rather than the norm. A poll we ran in the UK suggested 80 per cent of people feel brands don't do enough good in the world. Only 50 per cent of British workers polled by YouGov think their job makes a meaningful contribution to the world. And Havas found only 5 per cent of UK consumers in their polls who believe brands make a meaningful difference to our lives.
I don't think they are talking about the difference made by the products and services involved. These no doubt still meaningfully wash clothes, still meaningfully remove unwanted hair and still meaningfully provide pay cheques. I think what they mean is that that's all they do.
After decades of being encouraged to plough our cash, our careers and a bit of our happiness into businesses and products that promised to fix our real, imagined and invented imperfections, there is a growing sense that the great corporations of the age should be doing something more useful with that cash than just asking for more.
When they decide to make a point worth making, unlike politicians and pressure groups, big business has the resource to do so at scale. But content will not save us on its own. It is notable that the supposed boom in female expression that is the blogosphere is still dominated by young women with baby-doll expressions promoting make-up and older women promoting aspirational kitchens in return for advertising dollars and free products.
If they are really intent on making a difference, brands with purpose must use their resources to fund a more active approach to make our lives more lovely, following a handful of well-intentioned brands' example by setting up long-term social programmes in which they do something real to tackle the real imperfections in our lives: injustice, inequality and insecurity.
More thoughts...
An inspiration: Jessica Ennis-Hill Brilliantly kicking the crap out of expectations, then pausing to namecheck other gold-winning mums on the way to the podium. Don't call it a comeback.
He likes the way she thinks: "Fern is passionate about helping companies stand for something motivating and interesting to people. This humanity at the core of Fern's brain is what makes her great to work with – the strategy always serves the output, and the output is always there for the audience, not the agency." - Chris Clarke, chief creative officer, DigitasLBi
Thought for the year:
"Without deviation from the norm, progress is not possible." Frank Zappa