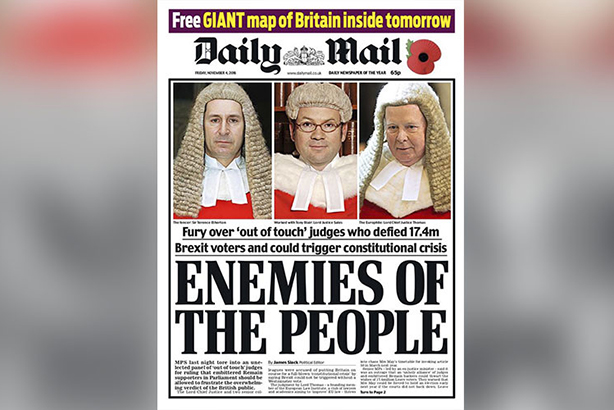 Any pretence that Dacre will be steering the ship from upstairs in his new role as chairman and editor-in-chief has been blown out of the water by the imminent arrival of his bitter rival at Northcliffe House.
The fact he has been replaced by his anti-Brexit rival at the Mail on Sunday leads many of his loyal staff thinking he must have been dragged to the exit door kicking and screaming.
And it has to be said the move is a gamble by DMGT chief Lord Rothermere.
At a time of declining newspaper circulation, the Daily Mail has held power because the metropolitan liberal elite has looked to it to learn what middle England was thinking.
Where next for the Daily Mail after Paul Dacre's departure?

Paul Dacre's populist instinct has been proven over the decades and the Brexit referendum result was his greatest triumph.
It meant the Daily Mail was both feared and revered and its provocative front pages leading the news agenda - think 'Enemies of the People' and 'Crush the Saboteurs' in recent years alone.
Will that be the same now that Remainer Geordie Greig, who was once editor of society magazine Tatler and literary editor of the Sunday Times, takes charge?
For many of my former colleagues at the Daily Mail the answer is "no". The Daily Mail now risks losing its commercial edge, it has punched above its weight for years, not because of its circulation but because of what it represents.
It is said that Lady Rothermere has been embarrassed by Paul Dacre's Daily Mail in recent years and has been lobbying for Greig to get the job.
If that's the case, Dacre isn't going without a fight.
Today's leader rails against Chancellor Philip Hammond demanding 'Don't let Remoaner Phil wreck Brexit'.
Come November, the Chancellor (whoever that might be) won't be quite so concerned about what the Daily Mail is thinking. And that can't be good.
Keith Gladdis is a former executive news editor at the Daily Mail and now a director in MHP's Media Unit
This article was first published on www.prweek.com