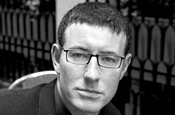 Congratulations to Sir Alan. After a series of The Apprentice that had nothing to do with the candidates' business acumen and everything to do with their ability to bitch in the boardroom, he made the right decision and hired Lee.

What had become a game show pure and simple, swung back to being about business and we were proud in our own small way to have played a part.

When they rang us we assumed it was for the advertising episode and we said yes immediately. Why?

Because whatever the self styled "advertising man's nightmare" says about us, he always treats us well.

Think back. Publicis, Saatchis, CHI, all got their moment in the sun. All shone. The Apprentice makes advertising agencies look good, because the contestants need to look bad.

It was only when they arrived of course that we realised that it was not the advertising episode - well done Rory et al - but the final.

And that the task wasn't really about advertising. And that despite a dozen candidates milling around our offices, there were no obvious finalists, apart from maybe Lee, and oddly enough in the circumstances, Raef.

In the flesh, they were all reasonably nice, reasonably competent, and reasonably commercially aware. All would have made reasonable grad trainees - and two of them did ask about working here - but reasonably nice doesn't create good telly.

As the series unfolded this was what The Apprentice seemed to have become.

Neither a business masterclass, nor a chance to see future captains of industry at play; just great telly. The task - the business bit - was irrelevant.

But then came the final, and the moment when Sir Alan decided to hire Lee. Not after a task, nor in the boardroom, but while talking football.

There in a nutshell is how business decisions are really made. Not on rational grounds, but for social and political reasons. You have four suppliers. All are competent.

All can do the job. So you hire the one that you think you will get along with best, and that communicates the right things about you to your bosses, peers or shareholders.

Sir Alan hired a fellow Spurs fan, with a similar background and a similar attitude.

He got someone who could do the job, someone he will get along with, and someone who everyone else will think was a smart choice.

At that moment - as he said the words "You're hired" - The Apprentice was once again about business.