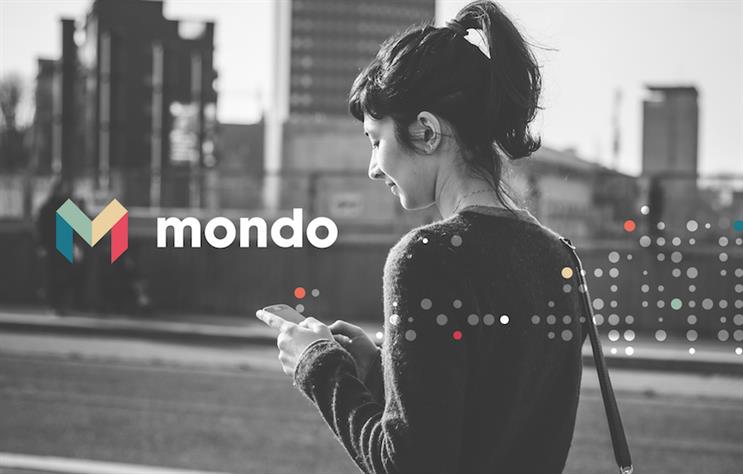 That's right – while falling stock markets have scuppered the government's plans for the big retail share offer in Lloyds, a 250-year-old bank with 22m current account customers, you can crowdfund a one-year-old 'pre-bank' with 3,000 quasi-customers.

Mondo, which is hoping to receive a banking licence this summer, has attracted £5m in funding from venture capital firm Passion Capital but is also seeking to raise £1m through crowdfunding platform Crowdcube.

This is not bank marketing as we know it, but a brand being built through coverage in the technology press on top of a product being built in an extended soft launch with early adopters.
What is Mondo?
The product will eventually comprise a current account within Mondo's app. But until Mondo gets its banking license, it's only available on iPhone, and only works with reloadable MasterCard debit cards.

Since all 3,000 participants of Mondo's 'alpha' trial have had to come in to pick up their debit cards, Mondo's marketing and community lead, Tristan Thomas, has managed to get to know the would-be bank's customers already.
Mondo isn't giving away money on the debit cards, if you wondered, so early customers appear to be genuinely motivated by the chance to experience banking re-engineered for the smartphone age.

And there are more in the (virtual) queue, with Thomas revealing that another 35,000 people (who have to be UK residents) have so far signed up for the coming 'beta' trial of the app, which will extend to Android.
A better user experience
Mondo is preparing to stand or fall on its ability to provide a better user experience than people are used to from mobile banking, since its account won't pay interest on credit balances or offer cashback.

Features likely to appeal include instant transaction data with full information, in contrast to the delayed and truncated information people are used to from older banks' legacy systems, as well as the ability to 'freeze' your card.


"You know that moment when you can't find your card and it might be stolen but it's probably down the back of the sofa at home," says Thomas (pictured, right). "Instead of having to cancel your card and wait a few days for a new one, you can just open the app and freeze your card until you find it."

Mondo is seeking to carve out a profitable niche in online-only (a website may come later, says Thomas) banking without the expense of physical branches but also without the support of other banks.
Taking on the big banking brands
The problem Mondo may face is that the customers it does manage to lure away from the older banks could turn out to be the less profitable ones, according to one financial services marketing agency chief.

"Banks generally chase the older customers who have all the wealth," says Kirsty Laxey, managing director of the communications side of marcomms agency Teamspirit. "Although of course younger people will become more profitable in the long-term if a bank manages to hold on to them."
According to Thomas, Mondo's current users are aged from 20 to 50 and are 70% to 80% male. Self-selection obviously dictates they are iPhone owners and more likely to be city dwellers and renters than the average.

Thomas doesn't know their annual income profile, but does know they're frustrated with their existing bank. (He also knows they include many people who work for big banks and other fintech start-ups and he's open about how everyone is learning from everyone else in the sector.)
He's conscious that Mondo needs to appeal to a mindset rather than a specific demographic, pointing to his chief executive Tom Blomfield's claim that "We're the bank for people who hate banks."
Where's the money?
So if Mondo takes off, how does it plan to actually make money?
In this, it is like any other bank in that it will lend out a portion of its deposits and make a profit on the spread. But it will do so in a way that lives up to the brand promise of transparency. Thomas says: "We will offer overdraft lending at a fair and transparent rate. We might alert a customer that they can borrow £200 until the end of the month at a set cost, for example £2."

A second revenue stream might flow from partnerships with other financial services providers, with Mondo acting as a marketplace for its customers. People who sign up with Mondo are also likely to be receptive to other new ways of employing their money, hence the relationship with Crowdcube.

Yet it could be a long road to even start troubling the big banks, who enjoy the incumbents' advantage in a market where inertia rules and have annual marketing budgets well in excess of the initial investment Mondo has raised.

With Mondo in building mode for now, the strength of the challenge from the new breed is more likely to be illustrated by close competitor Atom, which unlike Mondo has engaged an ad agency (Mother) and a digital agency (Th_nk).

Atom has raised £135m in investment, including a 29.5% stake from Spanish banking group BBVA, and while it had hoped to launch in mid-2015, it is planning to be ready early this year.
Keith Moor, chief marketing officer at Santander, is relatively sanguine about the threat.
He told Marketing: "As a scale challenger, we welcome initiatives and new entrants into the market that will increase competition.
"Our experience suggests there is a huge potential for many consumers to get more than they currently get from the 'big four' UK banks so I can see why start-ups like these would be attractive for customers."
Moor added that Santander's customers were increasingly turning to mobile, with the bank gaining an average of 1,500 new active mobile users a day.
Says Laxey of Atom and Mondo: "The key thing is that they are providing a much simpler, easier experience but on top of that they've got a layer of personality and an appeal to people looking for something different. It feels quite transparent as well, you're really clear about the service that they're offering.

"The big banks will all be watching to see which of these is actually making money at the end of the day and attracting new banking customers. They can do what HSBC did with the original challenger bank, First Direct, and go out and buy them."