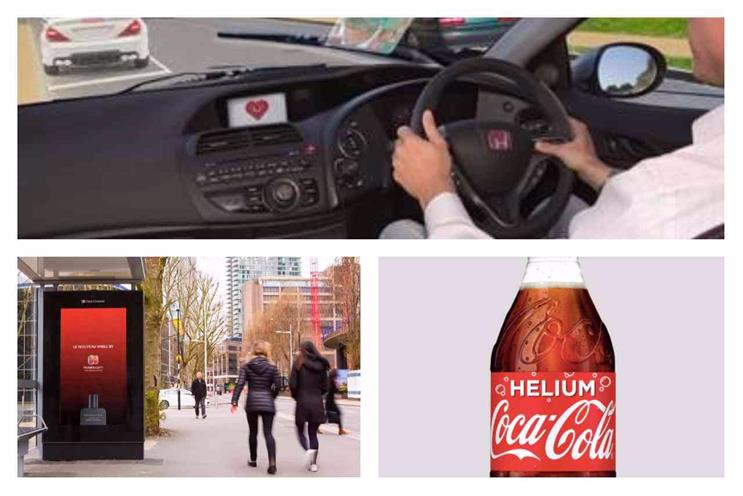 Honda gets into the dating game
Using windscreen wipers, drivers can now "swipe" left or right to find their perfect passenger using a Honda dating app. H-swipe connects to an digital windscreen and interactive directional "s-wipers", and uses geolocation technology to pinpoint the nearest potential dating candidate.
The driver then uses the windscreen wipers to swipe left or right, either accepting or rejecting and moving on to the next eligible suitor (while the car is stationary – safety first!)
Coca-Cola launches helium variant
The soft drink giant is adding helium to the carbonation process to give customers that chipmunk-esque timbre to their speaking voice.
Kate Miller, Coke's marketing manager, said she hoped sales of the new drink variant would "balloon".
Burger King launches Whopper Toothpaste
Fans of the flame-grilled taste need no longer worry about leaving the house without the fresh taste of hamburger in the mouth.
Whopper Toothpaste is apparently packed with active ingredients for gum hygiene and will be available to buy at Burger King restaurants as well as pharmacies.
Wash & Go to take over Barnet FC
Remember former Procter & Gamble's "two-in-one" shampoo brand Wash & Go? Barnet Football Club announced it would be making an astonishing move by taking over the football team and renaming it Great Barnet. Wash & Go was sold to Conter SRL in 2015 (not part of the joke).
The club's actual owner, Tony Kleanthos, spoke about the move:
Pizza Hut Delivery serves up 'spa retreat'
Who could resist the allure of dough-rolling classes to knead away stress, or sweating away one's sins by sitting in a life-size pizza oven? That's the question being asked by Pizza Hut Delivery with its social campaign, created by Ogilvy & Mather London.
Hotels.com unveils hotel-scented perfume
The product may be a joke but this digital outdoor campaign is very much real. Hotels.com has launched four eaux de toilettes to remind you of that special time on holiday: "Touche de Fresh Sheets", "Essence de Breakfast Buffet", "Whiff of Free Wi-Fi" and "Eau de Free Toiletries".
The nationwide DOOH campaign was created by Crispin Porter & Bogusky and runs for 24 hours on 1 April.
Giffgaff creates phone screen moisturiser
The mobile brand is touting a "revolutionary" new moisturising balm that not only keeps phone screens supple, but also "miraculously" repairs cracked screens to keep your phone looking fresh.

The marketing spiel says, "Applied twice daily, Giffgaff's 'Cracked Screen Balm' keeps phone screens looking as youthful as the day they were first unboxed. Giffgaff's unique rich and creamy formula contains rejuvenating technologies that instantly repair damaged screens, leaving smartphones with a radiant, healthy glow."