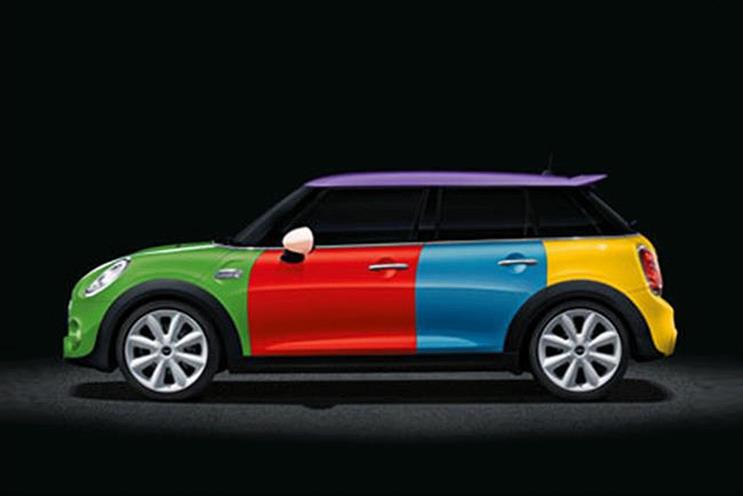 Mini "coalition" by Iris
Mini's April Fool's contender is an out door poster ad showing its iconic car painted in green, red, blue, yellow and purple to reflect the colours of the main political parties.
The ad says: "The new Mini coalition. Coming May 2015. (Colours may vary.)"
SunLife "beard insurance" by Happy Hour
SunLife, the financial services company, is launching insurance for beards. The Beard Insurance protects against "accidental damage, malicious damage and travel cover" and starts from £3 a month.
The 60-second ad shows a number of men with beards. A voiceover explains that men can "suffer terrible beard-trimming accidents" and others can "suffer devastating beard singe".
BMW "mouth guard" by FCB Inferno
BMW has released a campaign to show off a new mouth guard for rugby players made from the rubber it uses around its car doors.
BMW said: "The interior of the guard uses tyre tread technology and grips accordingly, while the BMW signature kidney grille lies between the front incisors, acting as an elegant respiration vent."
The car manufacturer has released print ads, social media activity and a video featuring Chris Robshaw, the England rugby player.
Barclaycard "Barclaycard Anything" by Hope and Glory
Barclaycard Anything allows people to use any object they wish for contactless payments. The film shows people trying to use a gnome, a baby carrier and a teddy bear instead of their usual card.
Katherine Whitton, the chief marketing officer at Barclaycard, said: "Who needs cash when you can buy a coffee using your favourite handbag, pay for your nappies using your baby's pram or even grab a pint in the pub with your wedding ring?"
Dominos "#DominNoDriver" by Iris
Dominos Pizza UK is fooling people with the "world's first driverless delivery vehicle", which will be "100 per cent less driver but with 400 per cent more pizza".
If the robot encounters any altercations when travelling on the roads it will flash up with signs for other road uses such as "sorry," "apologies" and "what am I like?"
Simon Wallis, the marketing director at Domino's Pizza UK, said: "While driverless vehicles once sounded like science fiction, it's now within our grasp – and harnessing this innovation for pizza delivery opens up a new world of opportunities for us.
"Working with the latest technology helps to ensure our customers have the best possible experience, so we're really excited to bring these amazing vehicles to streets across the UK."
Foyles "boo!mark" by Lida
The books retailer has created an electronic bookmark that detects when the reader has fallen asleep and wakes them up.
Abel Dos Santos, a non-book buyer at Foyles, said: "We all know someone who falls asleep when they read, and even the best page-turner can't stop you eventually drifting off when you're reading at night. Boo!mark by Foyles will help readers to keep alert through more of their favourite books."
Hailo "piggyback" by Manifest London
Hailo, the taxi booking app, has created a piggyback option. The company is offering "trained human piggyback carriers" to take passenger to their chosen destination.
It has created a video to show how the Hailo team came up with the idea.
Churchill "Churchill: The Movie" by WCRS

The insurance company has mocked up a film poster for the nodding dog that features in its ads. It said that the film will be "quintessentially British".
Lucy Brooksbank, the head of marketing at Churchill, said: "We've listened to Churchill's fans and made the dream come true for Churchill to take part in his own adventure story, which will appeal to adults and kids alike."
Specsavers "pet glasses" by Cummins
The retailer has launched glasses for pets and has released a comical outdoor ad for the new products showing a dog missing several items thrown to him to catch.