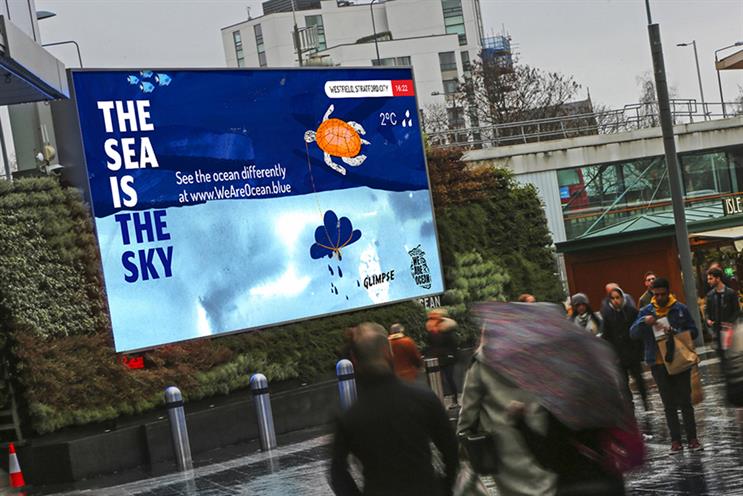 Creative collective Glimpse and not-for-profit organisation We Are Ocean are making a connection between cities and the seas in an out-of-home campaign triggered by rainfall.
When rain falls, a variety of surreal animations are triggered on the digital outdoor screens that depict marine life in an upside-down world, with the sea at the top and the sky below. An octopus, turtles, a hammerhead shark and an Arctic narwhal are among the animated creatures that playfully tow rainclouds as they swim across the screens.

"The sea is the sky" breaks this week on six large-format screens in London, Birmingham, Edinburgh and Newcastle, as well as the entire Loop networks in Manchester and Birmingham. The activity appears on all Ocean screens only when it is raining.

The aim is to galvanise community action to protect the planet's oceans and marine life by reminding people that the sea is the sky. We Are Ocean wants to get people thinking "ocean" every time they feel the rain. The UK sees about 133 days of rain a year.

Glimpse's ad was a winner in Ocean's annual digital creative competition, run in association with Campaign. It won in a new award category that aligns brands or charities with Ocean for Oceans, an initiative that uses Ocean's screens to help stop single-use plastic polluting the world's seas.

"Most of us know the ocean is in trouble, but we live in inland cities, which feel worlds apart from the ocean," Dan Burgess, activist and change strategist at We Are Ocean, said. "We love how this campaign uses something as everyday as rain to make the ocean tangible and improve ocean literacy; that is: understanding the ocean's influence on us and our influence on the ocean."