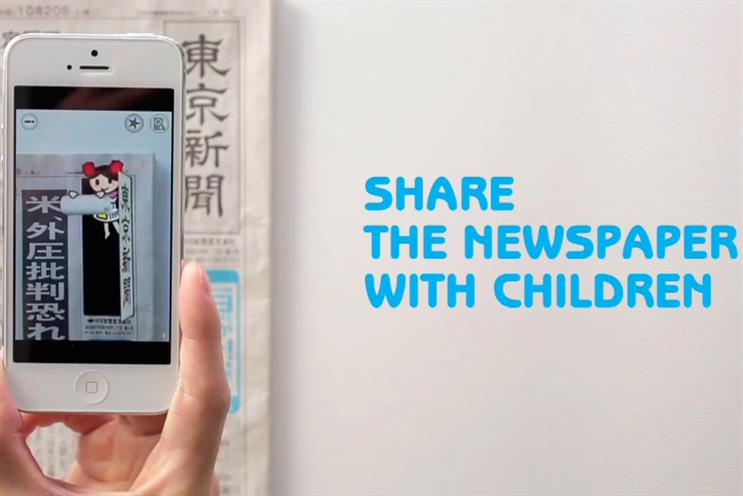 It's wearying to constantly hear and read about the decline of the printed product (even more so if you work in publishing), but Dentsu in Japan has come up with a neat wheeze that will hopefully create a future for the dead-wood technology that is newspapers.
Working with The Tokyo Shimbun, one of the country's biggest daily titles, the agency has created the AR News app that allows children to hold a smartphone over the newspaper to reveal a child-friendly version of the text.
While the content is the same, the way that it is delivered is different – for example, there are pop-up headlines and commentaries from characters, as well as the substitution of complicated words or concepts for ones that children may understand.
Wags might note that, in the UK, such an innovation would be unnecessary as that is a gap in the market already served by the tabloid press. But as a way of attracting new readers, embracing new technology and making newspapers a shared familial, social event (and perhaps teaching kids a thing or two), it's difficult not to see the AR News app as a good thing.
There are also opportunities for advertisers to create ads that target both children and adults. In The Tokyo Shimbun, Kirin drinks, Meiji yoghurts and the Hato Bus company have been among the first to use ads that change according to whether they are being read in the hand or via the smartphone app.
Quite what the regulators or Reg Bailey of the Mothers' Union will make of all this is difficult to tell, given our innate sensitivity of ads targeting children. Equally, the question of whether children will find the same things as their parents interesting (no matter how it is presented) will be fascinating to see.
And for smartphones – a piece of tech that was supposedly going to be the nail gun in the coffin of the newspaper industry – to now be lending that industry a helping hand is rather a sweet notion.