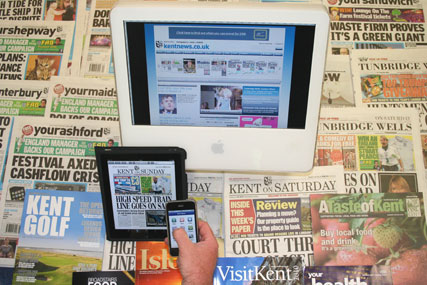 Archant, which has had a minority interest in KOS Media since 2005, has now taken full control of the group.
Its rival in the region is the family-owned Kent Messenger group, publisher of the Kent Messenger among other titles. Northcliffe Media also has a presence in the region.
A spokesman for Archant said KOS Media's parent company would be wound up as part of a restructuring process, and all creditors would be paid.
National ad sales for the company are currently handled by the independent sales house, Media Force. A spokesman for Archant said there were no immediate plans to move the account to Archant's sales house, Clacksons.

In addition to the Kent on Sunday newspaper, which launched in 2002, KOS Media also publishes a series of free weekly newspapers, magazines and associated websites and mobile products.

KOS Media's internet-based TV service, YourkentTV, provides regional features, business and sports coverage, and the company publishes classified websites for jobs, property and motors.

Adrian Jeakings, chief executive of Archant, said: "This acquisition strengthens Archant's existing presence in Kent and provides a springboard for further investment. We look forward to working with the managing director Paul Stannard and his team, to develop this vibrant business."

KOS Media employs around 70 full-time staff and a spokesman for Archant said there were no plans for any job losses as a result of the purchase.

Stannard said: "We will benefit from ownership by a large, well- financed, independent group with ambitious plans to grow the business."

Archant London publishes 21 weekly newspapers in London and Kent, including the Kentish Times series of weekly newspapers, which includes the Gravesend Reporter, Dartford Times, Bromley Times and Bexley Times.