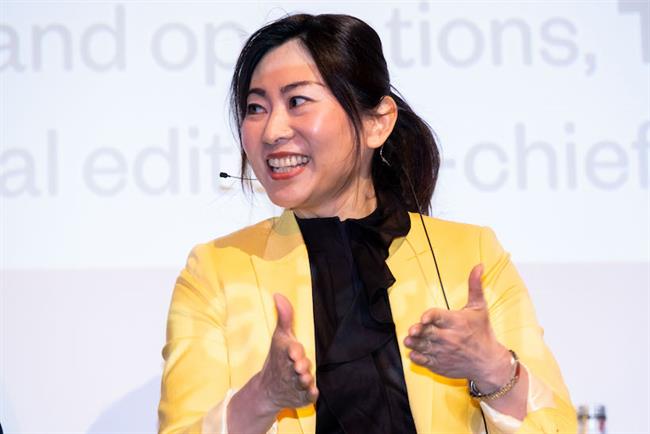 "The China market cannot be understood from what you see – you really need to dig into what's happening," explained Mika Kanai, media and digital marketing general manager, Shiseido China.
And that's exactly what Chinese and UK experts were tasked with at Campaign's latest Breakfast Briefing in May. Claire Beale, global editor-in-chief at Campaign hosted top speakers from Tencent, The Trade Desk, Fortnum & Mason and GTB to explore what Chinese consumers look for and explore the opportunities that China offers western brands.
China's economy is currently four times the size of the UK's. And 20% of internet users in the world live in China, making up its huge, and growing, middle class.
Things move fast in China with that middle class growing nearly at four-times the rate of the US. And brands should pay attention – if they aren't already.
It is a population that's hyperconnected, with an app for everything and an appetite for convenience. You can order someone to queue for you, pay for KFC with your face and even divorce a spouse on WeChat.
Ad spend in China is projected to grow by half again by 2022. And the vast majority (92%) of marketers see China as a significant growth opportunity for their business, if not the biggest.
There's no shortage of opportunity – but there are also many brands who have tried to capture the market and failed. M&S withdrew from China last year after failing to cut through to consumers in previous years, while Dolce & Gabbana missed the mark with an offensive ad which shaved 20% off its share value.
What brands need to be successful in China
They must really know the market, explained Anna Forbes, general manager UK, The Trade Desk: "You can't just show up and replicate what you're doing in other markets, it won't translate."
Forbes explained that it's important for brands to stand out, to understand market nuances but to also retain what makes your brand special – whether it's heritage, premium or convenience.
Hot Pot Digital founder and CEO Jonathan Smith says you must ensure you appeal. "Localise but don't overdo it, spend time creating a brand that has affinity and gives people a reason to actually buy in,"he said.
GTB chief strategy officer Milo Chao believes brands should think carefully about their tone of voice when talking to Chinese consumers.
"You can't talk down to them – be aspirational as it's a boredom economy" he said.
Kinai added that being in China for four years has really raised her marketing skills due to its "deeply competitive nature" and she believes that brands with a genuine purpose for being in the China market will win out."It is a big commitment so you must understand why you need to be there in the first place," she said.
Alvin Foo, managing director at Reprise Digital, advised brands to research the market properly: "If you do want to enter the market, work out which one. It is dangerous to assume China is all the same as it's made up of about 34 provinces and five tiers, distinguishing its cities by population and GDP. Are you up for China?"
Forbes added that marketers must also think about the same core objectives they would in the west: "Openness and transparency, brand safety and leveraging first-party data is key, particularly as data servers are based in China, you can't take your data out."
The same challenges
The China market needs to work at improving brand safety, explained Forbes: "This is something that still holds marketers back from investing. That's one of the reasons we're here, to help brands navigate that but also to help push them in the right direction."
Foo explained that one of the reasons is the competitive nature of the three digital platforms that dominate the market: Alibaba, Tencent and Baidu. They are self-governing and self-approving.
"They compete head to head so none of them share anything; there is limited working together," he said.
Forbes believes that self-governance helps as a first step into a new market but as brands become more mature they will want a third party to come in and audit.
"We are bringing incremental revenue, new brands to China and we are showing the Chinese the standard that brands expect in the west, so if China wants to keep seeing that revenue they will have to adopt these standards," she said.
Forbes said that overcoming this challenge would transform the market.
How Fortnum & Mason is cracking China
Fortnum & Mason, the upmarket London department store that was established in 1707, recently ventured into the China market.
Customer experience director Zia Zareem-Slade explained how: "We couldn't shy away from the growth opportunity coming from China – especially seeing as we already had evidence that we were of interest to Chinese consumers, who are frequent customers at our UK stores. That was our starting point."
Fortnum & Mason's first step was to "make friends", then started to build a network to help them better understand and navigate the market, including partnering with full-service China marketing agency, Hot Pot Digital.
Zareem-Slade said: "We did a lot of groundwork, looking at the Chinese consumers interacting with our brand in the UK. We spotted that we were missing some opportunities here such as creating experiences, giving people memorable experiences, helping create memories, giving people a reason to share on social media".
They built a WeChat store with 30 key products they know Chinese consumers are really interested in – and have already seen great results. They have also announced they will be opening their first store in Hong Kong this year.
Smith explained why the brand is getting it right: "It's got heritage, traditional, royal connections – all of those things are gold. It fuses 300 years of heritage with a drive towards modernisation, which is a great thing to put in front of Chinese consumers."
"China is a million different micro markets – that's how you really define a positive experience of taking your brand into China," says Zareem-Slade.
"We don't chase everyone's opinion of who we should be but we do spend a lot of time understanding it from a user perspective – you have to get in and understand what they want, which is often different to what we're doing here, especially online and on mobile. So it's finding the middle ground."
Five apps answering China's consumers
China isn't just mobile-first, it's mobile-only. Chao shares five apps that are capturing the nation's attention right now:
Hema Fresh Fresh food delivered to your door, in under half an hour – free of charge
Shansong A delivery app that brings parcels, from anywhere at any time, to anyone within 60 minutes
DiDi Taxi app that squashed Uber. It's quicker, cheaper and therefore better
Jinri Toutiao Endless news aggregator app. You can't run out of headlines, ever
Coffee meets Bagel A dating app that sends you a possible match, every day. Users are called coffee and their matches are called bagels