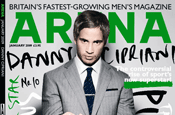 Arena's final April issue goes on sale next Thursday, 12 March.

Bauer Media has now entered consultations with members of staff. The publisher says it will seek opportunities to re-deploy staff in other areas of group

Arena's suspension does not affect the bi-annual style magazine offshoot Homme Plus, edited by Jo-Ann Furniss, which will continue to be published.

ABC figures for the period July to December 2008 showed Arena's circulation was 29,374, up 16.4 per cent year-on-year but down 4.9 per cent on the previous six months.