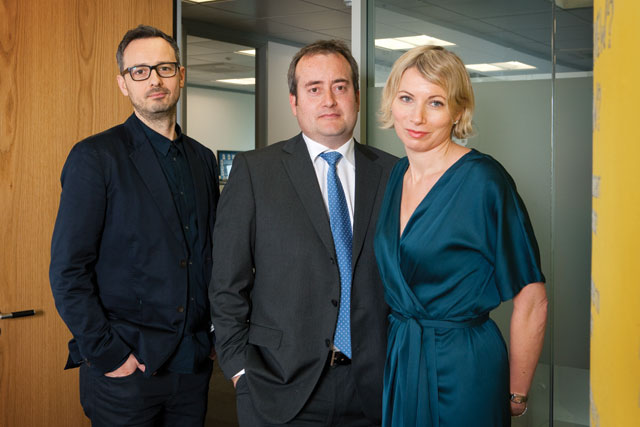 When the news broke back in January that OMD had made Dan Clays, Arena Media's chief strategy and development officer, an offer he couldn't refuse, it was clearly time to take stock at the agency he was leaving.
In the outside world, there was certainly a perception that Clays was one of Arena's more important cogs. During the noughties, he was absolutely crucial in underwriting the agency's credibility in the digital sector - and, for a while, the sub-brand he headed up, Quantum, was threatening to become more famous than the agency itself.
Luckily, Arena and its French owner had a little bit of time to think about the new challenge they had been set. As it happened, Clays' departure coincided with the conclusion of some of the contract arrangements signed when the agency (BLM Media as it was) was acquired by Havas Media in January 2008.
The agency's chief operating officer, Paul van Barthold, chose to move on - and an opportunity to do something radical had presented itself. So, it seems that the moment has been well and truly seized - as witnessed by the new management triumvirate unveiled last week.
Pippa Glucklich has moved up from managing director to chief operating officer; she's succeeded in the managing director role by Pedro Avery, who was formerly the head of trading; and Justin Gibbons, who was previously a part-time advisor on behavioural economics issues, is merging his consultancy, Work Research, into the agency and taking up the new full-time role of creative director. All three will report to the chief executive, Steve Booth.
"We could have just looked to replace Dan's specific skills on the digital side," Avery explains. "But rather than swapping one Dan for another Dan, we're acknowledging the fantastic digital talent we already have here."
Avery will continue to look after trading in the short term until a permanent successor can be found; but his new role will see him becoming far more of an agency figurehead and he'll also be charged with setting business strategy.
Glucklich, consequently, will have a slightly more inward-looking role, though she emphasises she'll still be involved with clients. She adds: "I'll be responsible for the commercial blueprint across the business - how we can drive efficient processes and add value for clients."
Arguably, though, it's Gibbons' appointment that's likely to provoke the odd double-take. The introduction of a creative director role is being presented as a media agency first - and it is, up to a point.
Those with longer memories may recall the media agency pioneer Chris Ingram flirting with the idea on at least one occasion, as did PHD when Jonathan Durden was its mischief-maker-in-chief - and he took the idea with him when he was employed, briefly, by Arena's sister agency MPG Media Contacts.
In earlier, more hubristic, days, the notion of the media agency creative director was part and parcel of a power struggle between media and creative agencies, with the former arguing it was time for them to stick their oar in more regularly and attempt to tell creative agencies how they might go about meeting their briefs.
And yet, though Gibbons is a chip off the old PHD block (he was a strategist there for seven years), there's certainly no suggestion of that here. Gibbons explains: "We're not going to be nudging creative agencies. It's about the creativity of our thinking and the creativity of our output."
His appointment reinforces a new positioning for the agency, following a revamp last year timed to the 21st anniversary of its launch. A new mission statement, "partners for now and next", displays a desire to be an agency that is innovative while still rooted in performance. With online media planning and buying fully integrated into the main agency, Quantum was also neatly repurposed as a consultancy operation.
At the heart of this proposition was a new planning tool called Architect - the first of its kind in the UK (it was claimed), to draw systematically on insights derived from the fashionable theories of behavioural economics. BE is very much Gibbons' thing - and he was originally brought in to offer BE insights to the agency on a consultancy basis back in March 2011.
It's safe to assume from his growing importance to the agency that he's doing something right. "It's about ways of looking at the world through a different lens. Arena will be the first agency to run its own research company," he explains.
So many firsts. And, indeed, it's true that there is something rather unique about the agency. By its own admission, it's never going to aspire to a big league dominated by the megalithic media agencies owned of the likes of WPP, Publicis and Omnicom. But that doesn't seem to be its ambition. However, it remains to be seen whether its recent new-business momentum can be maintained. In June last year, it won Eurostar from Vizeum, and, this year, it has picked up Betfair and Estrella Damm.
Avery says that the creative thinking aspect is absolutely crucial to what makes the agency different. "I don't see us becoming a large-scale media player," he admits. "We are a £140 million turnover agency - and in that sort of market, you need to be clearly differentiated. We've always done a lot of very creative things. But that wasn't necessarily sitting at the front door. Now it will be."
ARENA MEDIA TIMELINE
1990: Alec Kenny, Nick Lockett and Steve Booth launch KLB
1992: Kenny leaves and Charlie Makin becomes third partner in renamed BLM 1998: BLM Quantum launches to offer internet services
2000: Paul van Barthold joins as partner and managing director, subsequently chief operating officer
2002: BLM Azure launches to offer service for children's advertisers
2004: Dan Clays promoted to managing director of Quantum
2006: Acquires premium and luxury specialist Red to form BLM Red
2008: Acquired by Havas to form Arena BLM. Lockett quits
2010: Rebrands as Arena Media
2011: Makin departs
2012: Clays and van Barthold leave