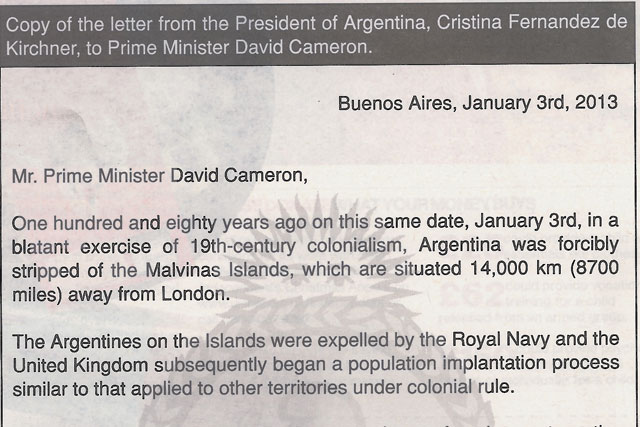 The ad is written as a letter to British prime minister David Cameron and marks the anniversary of the day Fernandez de Kirchner said the British Royal Navy expelled the Argentines living on the islands.

At the start of the letter, Fernandez de Kirchner said Argentina was forcibly stripped of the Malvinas Islands, the Argentine name for the territory, in a "blatant exercise of 19th Century colonialism".

The ad has run in The Independent and The Guardian this morning.
The diplomatic tension between the UK and Argentina over the ownership of the islands has been heightened over the past 12 months after a number of diplomatic rows.

A Foreign and Commonwealth Office spokesman said: "The people of the Falklands are British and have chosen to be so. They remain free to choose their own futures, both politically and economically, and have a right to self-determination as enshrined in the UN Charter. This is a fundamental human right for all peoples.

"There are three parties to this debate, not just two as Argentina likes to pretend. The islanders can't just be written out of history.

"As such, there can be no negotiations on the sovereignty of the Falkland Islands unless and until such time as the islanders so wish."

In December, Fernandez de Kirchner summoned the British ambassador to Argentina after the Coalition Government renamed a disputed territory in Antarctica, Queen Elizabeth Land.

Last year, WPP's Y&R network was criticised after its Buenos Aires office made an ad showing an Argentinean hockey player training on the Falkland Islands, ahead of the London 2012 Olympic Games.
The Y&R network made a contribution to war veterans' charities in an attempt to compensate for the controversial spot, after it prompted a diplomatic row between the UK and Argentina.


Follow @MaisieMcCabe