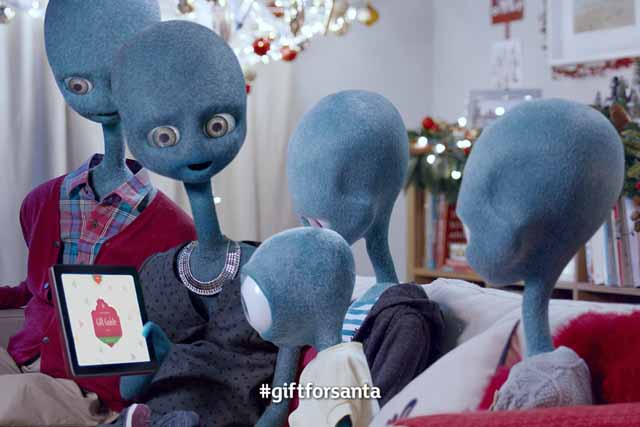 The retailer, working alongside agencies CHI & Partners, Mindshare and The Social Practice, has signed a deal with ITV.
Launching this Wednesday 13 November, a series of ads will be tailored to specific programmes on ITV.
For each, the first ad will invite consumers to submit their suggestions, the second will be a reminder, while the third and final ad will see the Alien Dad and Alien Mum characters (voiced by Bill Nighy and Claire Skinner respectively) read out the winning suggestions live on air.
Ads tailored to programme content will run during the breaks of shows including 'The Only Way Is Essex', 'The X Factor' and 'I'm A Celebrity... Get Me Out Of Here!' They will feature the voices of celebrities including Tony Blackburn, a former 'I'm A Celebrity... Get Me Out Of Here!' winner, and voice of 'The X Factor', Peter Dickson.
Different prizes have been created for the different programmes and will include tickets and backstage access to 'The X Factor' and a trip to the Australian jungle where 'I'm A Celebrity... Get Me Out Of Here!' is filmed.
Using the Twitter hashtag #giftforsanta, consumers can suggest the best gift from Argos's Christmas gift guide, with all entries shared via the @ArgosAliens account.