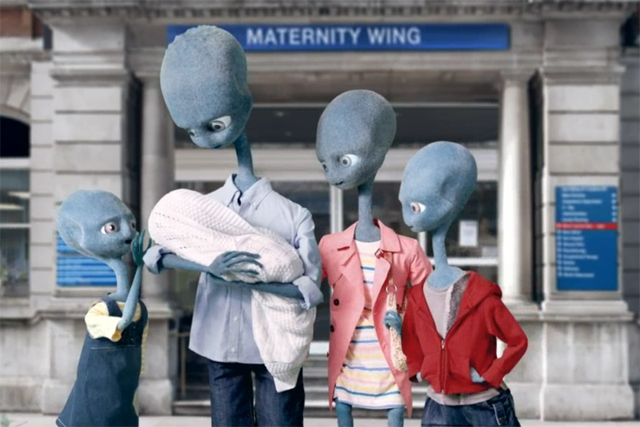 The campaign includes two 40-second TV spots, the first of which will run for four days starting from yesterday (25 June), featuring the now familiar "Argos Aliens" and focusing on a new arrival to the family.
In the first spot the aliens discover they are expecting a baby, the name of which viewers will be encouraged to vote for via Twitter using the hashtag #nameourbaby. The winner will be played out in a second TV spot, broadcast for one day on Saturday 29 June, celebrating the baby's arrival.
The second spot has been pre-recorded and will use a text overlay to reveal the baby's name.
Argos, working with its ad agency CHI & Partners, has also launched a new Twitter feed dedicated to the alien family @ArgosAliens, where Twitter users will be able to interact with the whole family: Mum, Dad, and children Rufus and Astrid.
The ad represents the first time Argos has used Twitter as a feedback mechanism in concert with a TV ad campaign and continues its gradual experiment with social media channels, which has included previous campaigns using Facebook and Shazam.
Carl Nield, head of brand marketing at Argos, said he hoped for even greater engagement with the current campaign, which - although it is only running for a week - is not restricted to ITV and will run across both terrestrial and satellite TV channels.
Nield said: "Social media is an important component of our enagement with the brand. This is the first time we've used Twitter in conjunction with a TV campaign but we've used Shazam in the past and were very pleased with the response and activity that generated."
He added that the purpose of the current campaign was to build awareness amongst mothers, and particularly first-time mothers, that Argos "is the place to buy all your nursery products".
In June last year, the high-street retailer received more than 2,000 votes from its Facebook fans in response to a competition to name "Astrid". This was followed up with a relatively small-scale TV campaign run on a limited number of slots on ITV that used Shazam as the delivery mechanism and attracted 19,000 responses.
Argos introduced its Alien family in its 2011 Christmas ad campaign.