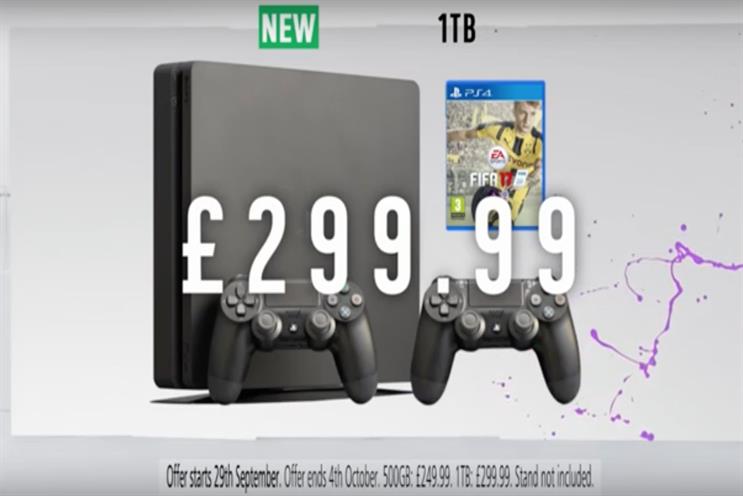 Two people complained after being told that the respective bundles in each of the two ads were out of stock when they tried to buy them on 29 September, the day the offer went live.
Argos ran two ads promoting a PlayStation console bundle, with one video ad running on YouTube and another ad carried on its website, both of which went live on 29 September last year.
In the video ad, a voiceover said: "At Argos, get the all new, redesigned, slimmer PS4. This 500Gb bundle with Fifa 17 is just £249.99. Or the one terabyte version with an extra DualShock 4 controller is £299.99… Offer starts 29 September. Offer ends 4 October. 500Gb: £249.99. 1Tb: £299.99. Stand not included".
Meanwhile, the online ad depicted a PS4 console with 500gb hard drive and DualShock controller for £149.99. A special offer at the bottom of the page showed the FIFA 17 game priced £45.99, the PS4 console and controller at £149.99 and a text box reading: "Choose from 3 products".
Text read: "Purchase this 500Gb PS4 console and receive both Fifa 17 and a selected game free. Offer ends 13 October 2016."
In its response, Argos provided the ASA with spreadsheets showing customer demand for the two bundles in the week of the promotion, compared to the six weeks preceding it.
The data showed that for the bundle advertised in the video ad, Argos had managed to meet 85% of demand, which it argued was normal.
Argos said that the bundle advertised in the second, web ad was made available to them on 28 September. Demand for the bundle quickly outstripped supply and Argos decided to remove the promotion from its website.
The ASA countered that advertisers must demonstrate that they have made a reasonable estimate of the likely response to a promotion and noted also that the ad failed to stipulate that the offer was subject to limited availability and therefore considered that consumers would expect the products to be generally available.
"In that case, we would expect to see evidence that the product was widely available and that Argos had sufficient stock to meet expected demand," it said.
The ASA ruled that while Argos could demonstrate it was able to meet 85% of demand, it had still failed to provide sufficient evidence as to how it had estimated what the promotional demand was likely to be.
"We considered that the amount of stock available could not be understood to be sufficient to meet likely demand, if that demand had not been estimated," the ASA said in its ruling.