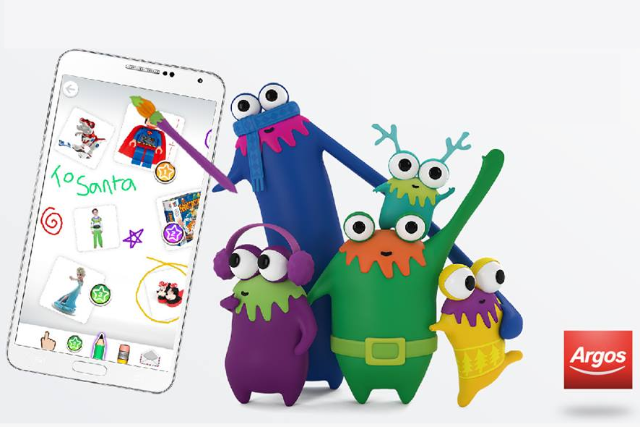 The "My Christmas Wishlist" app is a mobile take on the traditional letter to Santa. It lets children choose the toys they want for Christmas.
Parents who download the app must first register their email address. They will then receive the wishlist, which can be adjusted to control how many toys the children can choose within a certain price range.
A Pixar-style animated character, chosen by the child using the app, will then pick the desired toys and products.
The focus is on a tactile, "magical" experience, meaning children will not see back-end functionality such as price, or a catalogue-style layout.
The app is aimed at children aged between 3- to 7-years-old and is available for iOS and Android devices.
It targets children who still believe in Santa, rather than older children interested in Christmas solely for the sake of presents, according to the retailer's head of digital innovation, Neil Tinegate.
The app was conceived at Argos' first hackathon event in March, beating seven other project ideas.
The retailer decided to go ahead with the app in May and produced a finished product in October.
Tinegate told Marketing that Argos was planning to pursue several other ideas from the hackathon, and that the current app may be adapted for wedding lists or birthday wishlists.
He added that while the app had already seen "five-figure" downloads, the retailer had not set sales targets for Wishlist.
He said: "What we all said was first and foremost, what do people do at Christmas? They use our 40-year-old catalogue and that's part of a Christmas tradition.
"Pretty much all of our customers have [mobile] devices, and it was about how we transfer that catalogue experience into digital. Our targets were not about downloads or sales – it's about making that magical experience work for kids."