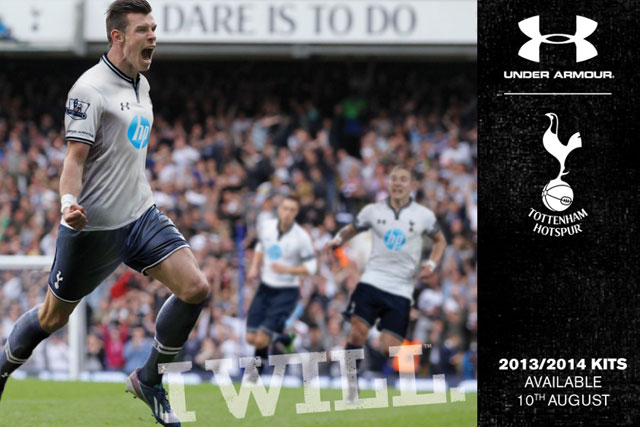 Founded by Kevin Plank, who played American football at Maryland University and wanted to create a shirt that would be lightweight when doused in sweat, the brand has built awareness among athletes and last year hit sales of $2bn (£1.34bn).
Now Under Armour is on a vicious growth strategy to expand the business outside the US over the next three years and double revenues by 2016.
It is a technical sponsor of Tottenham Hotspur Football Club and this week revealed the team's new kits, while kicking off the next phase in its global marketing campaign, 'I Will'. In addition, Under Armour revealed a brand new running shoe that boasts using technology from a women's lingerie factory to manufacture the new "speedform" product.
Matthew Mirchin, senior vice-president of brand & sports marketing, talks to Marketing.
Under Armour is firmly rooted in American football in the US – how do you translate such an American brand in to the UK and the rest of the world?
In the United States, our brand stands for performance. We started out making a tight fit T-shirt for an American football player and quickly recognised we had made the best performance apparel for athletes, whether they were football players, basketball players, male or female.
As a brand, we make sure we secure the right assets in different regions of the world to make sure we tell our performance story. In the US, we do it through American football, in the UK through Tottenham Hotspur. In Chile, we've just signed football side Colo Colo, and in Japan we've done it through basketball.
We know the brand translates when we do it correctly: the storytelling is the same across the regions, we just have to make sure we have the right people telling it.
How will you utilise your technical sponsorship of Tottenham Hotspur for your marketing work in the UK?
Tottenham Hotspur is an incredible asset for us. It's got a presence in the world of football and puts us firmly in the UK market. This is the second year of our sponsorship, so everything we have coming up around retail, point of sale, social and digital in the UK will revolve around Tottenham Hotspur.
How do you feel about wearing women's lingerie?
I wear it all the time now, it's fantastic. But seriously, one of our number-one requested products by athletes is our underwear, our boxer shorts. It's the most comfortable lingerie you'll ever wear.
Under Armour has previously benefited from athletes visibly wearing your clothing for its technical ability despite their sponsorship deals. Do you still see the brand's logo popping up in unexpected places now that the business is accepted as a challenger brand?
When we started, we weren't on anybody's radar. The big athletes had big sponsorship deals with various clubs, but players were still wearing our product because they didn't have anything to replace it with, and their sponsors didn't care too much.
Now that we're bigger, it's tougher to be guerrilla about our marketing and it is a little difficult to get our product onto players with big sponsorship deals. But when you see an athlete wearing Under Armour while they are paid by another sponsor, it is about as good an endorsement as you get. We love it.
What will the new speedform shoes do for the brand?
Our goal is to be the number-one performance brand in the world and you can't do that without being in the footwear business. Nobody has built a shoe like this before and we believe that we can be successful outside of our flag ship North American market, because of the innovation and technology inherent in our products.
Your founder Kevin Plank says competitors like Nike are not spoken of by name in the office. Do you follow this to the letter?
Who did you just say? I'm not sure I heard you correctly.
No, we don't ever say the names of our competitors and we don't focus on them. We focus on who we are and believe that if we can do our jobs well, the growth will continue to be 25% a year.