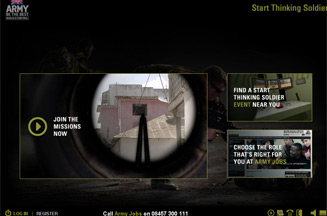 The ASA said it has received 'a handful of complaints' over the course of the last six months.
An ASA spokesman said: 'Complainants have objected that the ads are likening war to playing a video game. They believe this is offensive and misleading.'
The ASA said it did not refer them for formal investigation as it did not see them as misleading.
The ASA said it could only look at the content of the TV ads, not the online games.
'In our consideration, the ads did not trivialise the nature of war or army life and they do not mention the word 'game' or anything similar. They simply highlighted that you can go online to test whether you have the relevant skills that may help you become a soldier.'
The campaign targets under 24-year olds who might not have considered a career in the Army before by driving them to the Army jobs website.
Launched in April, the campaign by Publicis and Skive comprises four TV ads each unlocking a corresponding online mission.
Some consumers have also reacted negatively to the ads in letters to national newspapers.
One wrote to Metro: 'If we didn't have adverts on TV that make being in the Army seem like an Xbox game, would people still be shocked that soldiers actually die in a war?'
Another reader replied: 'War is one big adventure if the Army TV ads are to be believed. No disclaimers about risk of death, loss of limbs or psychological damage. Why hasn't the ASA got involved?'
The Army has said the next mission will go live as planned on 27 July, with over a million missions completed so far. The next ad has the theme of fitness.
Julie Evans, spokeswoman for the Army's recruitment service, said significant press coverage over fatalities in Afghanistan could have stimulated the negative feedback.
She said: 'Simulation is already widely used as part of the Army's training process and Start Thinking Soldier is an extension of this with increased feedback and interaction. STS does not attempt to re-enact warfare, it simply offers the opportunity to test the kind of skills that would be useful for a career in the Army.'