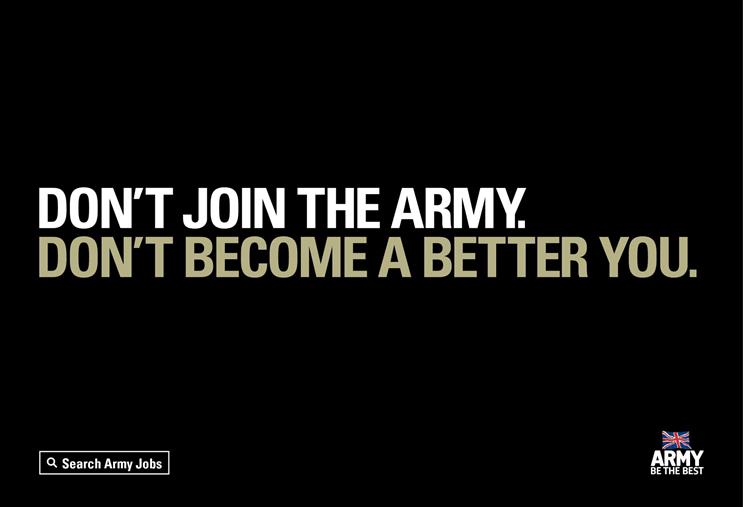 The ads features messages like "don't join the army" and "don't become a better you". The work was created by Karmarama's chief creative officer Nik Studzinski and creative director Adam Kean.
The posters are aimed at 16-24 year-olds, or Generation Z. A survey commissioned by the Army found that this demographic was altruistic, open-minded and keen to support themselves. The army hopes that the new campaign will tap into that generation's desire to do something that matters in life.
General Chris Tickell, general officer commanding for the Army Recruiting and Training Division, said: "The Army should be one of the top career choices for 16-24 year olds wanting to better themselves, make their family proud, and do something that matters.
"Too many people in this age bracket may have no idea that the Army is recruiting and those that do may not consider it as a career because of false stereotypes and misperceptions: from thinking there are no roles other than infantry and combat, to believing the Army is not for people like them."
"That's why we have deliberately designed a bold, new recruitment campaign that uses reverse psychology and a thought-provoking approach. It will encourage young people and those who influence them to notice the Army, and start having open conversations with real soldiers and their friends and relatives."
Karmarama was awarded the Army brief in October after a competitive pitch run by Capita, the outsourcing business that handles the Army's recruitment.