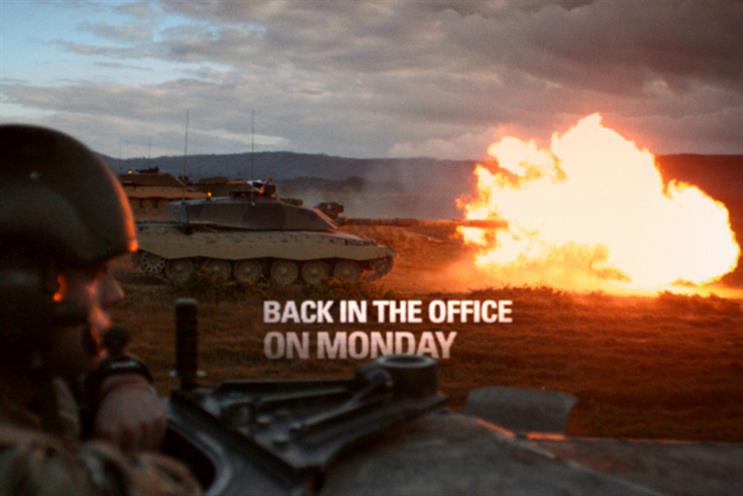 At London's Waterloo Station today until 7pm passersby can use Oculus Rift headsets to get a feel of what life is like in the Army Reserve.
The roadshow will then move around the country, visiting Newcastle, Manchester and Leeds.
The campaign, by JWT London, also includes a TV ad that breaks on Channel 4 and Channel 5 this evening.
The TV ad features slow motion shots of soldiers at work, firing weapons, in a fast-moving boat, repairing equipment underwater and, finally, jumping into a jungle pool.
There are several slow-motion explosions.
The sequences are set against captions conveying a more mundane office-based life, matching previous ads.
Neil Godber, the head of planning at JWT, said: "This activity encapsulates what's unique about the Army Reserve. It gives motivated people the chance to experience the adventure, challenge and camaraderie of Army life within their current career and home life."
The campaign is supported by video-on-demand, radio, digital outdoor, social media and digital display, and a roadshow featuring 360-degree 3D Oculus Rift presentations.
Oculus Rift 360-degree footage was produced by virtual reality specialists Visualise. Media planning is by MediaCom, and media buying by Carat.
The music on the ad comes from the beatboxer Faith SFX, who has created a drum'n'bass-style track using only sounds made with his mouth.
Russell Ramsay was the executive creative director on the campaign. The creative directors were Paul Rizzello and Olly Robinson and the ad was directed by Jake Nava for Cherry Studio.
Major General Chris Tickell, the director general of Army Recruiting and Training, said: "People feel their jobs are lacking a challenge, excitement, the opportunity to travel and a decent salary – all of which are available at a world-class standard with the Army Reserve, which this campaign aims to showcase."