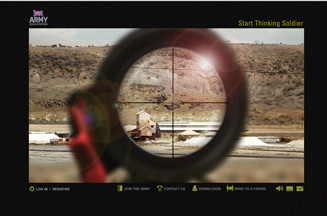 The rooms are designed to give potential recruits a taste of life as a soldier. Visitors can experience simulations of firing a rifle and riding in a tank, as well as obtaining information on back-office positions.
The first 'Show Room' opened in Dalston, London, last month. The Army plans to add another in Hounslow later in the year, with a potential national roll-out depending on their performance.
Unlike the Army's network of recruiting offices, the centres will not sign up recruits on the spot. According to senior officials, they are intended to provide a less formal setting.
The Stop the War Coalition described the scheme as an 'outrage', claiming it attempts to 'sanitise' war. The movement staged a protest last weekend calling for the closure of the Dalston centre, and plans further action.
Meanwhile, the Army is rolling out an online gaming initiative aimed at young people. The 'Start Thinking Soldier' campaign uses TV ads to push potential recruits to a website where they can participate in up to two hours of challenges to test skills including observation and target practice.
UK Armed Forces
The UK Armed Forces are at 97.2% of their full-time trained strength requirement - 173,930 against a target of 178,960 (as of 1 January).
People leaving the Armed Forces in 2008 fell by 8.3% compared with 2007.
In total 21,670 recruits joined last year, up 7.1%.
Source: Ministry of Defence