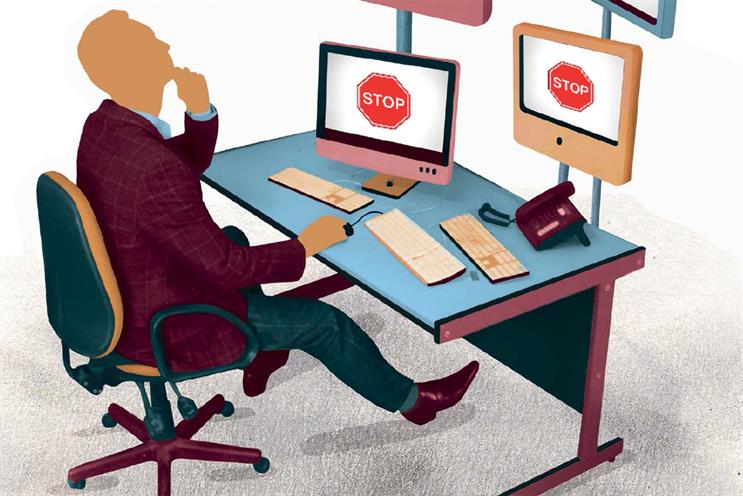 Is ad-blocking a serious threat to the ad-funded internet? In Cannes this year, the inventor of the world wide web, Sir Tim Berners-Lee, said he didn't think ad-blocking software was a problem because he didn't believe people really used it.
Yet research from the Internet Advertising Bureau has found that 15 per cent of people in the UK block ads. And they're not all teenage boys in Xbox chat rooms. Users include advertising executives who are fully aware that the ads they remove – and presumably in some cases help produce – fund the content they're reading (see right).
The industry's response to ad-blockers has been mixed. If you surf The Guardian online with an ad-blocker enabled, it politely asks you to consider paying to become a member. The request "please do us a solid and disable your ad-blocker" has greeted online readers of Condé Nast's Wired in the past.
Some content owners have taken a firmer view. Channel 4 prevents people from watching its on-demand content if they are running an ad-blocker and has done for three years. In September, The Washington Post started demanding that people subscribe or disable ad-blockers before they read its content. City AM this week became the first UK news­paper to follow suit.
The situation has escalated in the past month as Apple's new operating system, iOS 9, makes it so much easier to block ads on mobile. Given the medium's expanding role – adspend in the UK climbed 51 per cent to £1.1 billion in the first half of the year – the need to address people's frustrations with mobile advertising is pressing.
In September, Randall Rothenberg, the chief executive of the Interactive Advertising Bureau in the US, went on the offensive, describing ad-blocking as "robbery, plain and simple". But that has yet to be proven in the courts – indeed, an attempt by German broadcasters to sue Eyeo, the owner of Adblock Plus, failed in May.
One grievance with Adblock Plus is that publishers are offered the chance to pay to be put on a white list of sites that are able to serve ads to people using the software. The similarity between this and protection enforcers has led the media commentator Jeff Jarvis to liken the practice to "racketeering".
But not everyone agrees. A recent post on the University of Oxford's Practical Ethics blog questioned the assumption that it was wrong to block ads. James Williams, a doctoral student at the Oxford Internet Institute, wrote that he finds it remarkable that people simply assume the capture and exploitation of human attention is ethical and/or inevitable in the first place. In Williams' world, ad-blockers are the way people can push back against the "perverse design logic that has cannibalised the soul of the web".
Last week at the IAB Engage conference, Rothenberg announced a new set of global standards to try to rid the internet of unnecessarily annoying ads. But whether simply making ads better will be enough remains to be seen.
THE AD BLOCKER'S VIEW
GRAEME DOUGLAS

ECD
TBWA\London
Ad-blocking has been around for years. It used to be called popping to the kitchen during the break for a cuppa. Aside from outdoor ads (beyond shutting your eyes), we can choose not to consume ad­vertising. The trade-off is that we alienate ourselves from a significant proportion of news and entertainment, stuff we now insist on calling "content". Most of us don't, though: we still read the press, watch telly and walk down the street wide-eyed. The reason is simple: the value exchange is tipped the right way. Ad­vertising generally isn't so offensively awful that we need to filter all of it out, and it's largely tolerable for the sake of access to the aforementioned "content" (sorry).
The issue with mobile advertising is that the balance isn't tipped the right way.
The data crumbs we leave are ruthlessly abused to leave us at the mercy of insidious retargeting, formats are offensively interruptive and the serving of the ads themselves slows down the entire experience. It's like having a stalker who stands in front of you and repeatedly punches you in the face when you try to go anywhere.
The crux of the issue is that targeting has triumphed over creativity. The illusion of hyper-selection has bred laziness, and we've overlaid an archaic model of communications (BUY ME NOW!) on to a thoroughly new medium. However, thanks to iOS 9 etc, we can have our content cake and enjoy it ad-free. And as long as mobile advertising is offensively bad and bereft of anything remarkable, interesting or thoughtful, I'll keep the blockers on (and I'll happily pay for good content).
The challenge to us all – brands, agencies and, of course, publishers – has to be to raise our game: mobile needs to be seen not as a benign, murky media buy but as a platform for genuinely interesting ideas.
THE MEDIA AGENCY'S VIEW
BEN PHILLIPS

GLOBAL HEAD OF MOBILE
MEDIACOM
Ad-blocking isn't new; nearly $22 billion (£14.2 billion) worth of advertising has already been blocked so far in 2015 through desktop browser extensions. Agencies have built solutions for this to make sure advertisers only pay for ads that are fully viewable.
Mobile ad-blocking, however, has upped the ante thanks to Apple's decision to allow content-blocking extensions in its latest software.
The immediate threat is small for agencies but more concerning for others. Already, some titles in sectors such as gaming – where up to 40 per cent of visitors can block ads – are feeling the impact.
We have worked hard to ensure that the protection we offer advertisers on desktop can be extended to mobile. Most ad-blockers block the ad call entirely, ensuring it isn't counted and that there is no media or impression cost to the advertiser.
However, there are instances in which only the use of a Media Rating Council-accredited mobile ad server will be able to accurately report whether or not an ad was delivered. If the publisher doesn't know if the ad call was blocked, due to masking by the ad-blocker, they may count the ad as served.
We work with an MRC-accredited buy-side mobile ad server to ensure that advertisers only pay for delivered impressions, dramatically reducing media wastage.
But that's only a first step. As an industry, we also need further changes. We welcome the IAB's LEAN standards as a guide to best practice. However, the fundamental change must come from creative. Creative agencies (and our whole industry) need to learn to celebrate the huge value of building great smaller-format creative.
Publishers have a key role here. They should demand better creative from advertisers. Being known as the "channel that has the best ads on board" will not only discourage ad-blocking but also encourage user engagement.
They also need to make the case for advertising to their users. Publishers need to be much more transparent about how ads fund content. Content isn't free – someone has to pay and most of us would rather it was advertisers.
Ultimately, we should embrace the opportunity to think smarter and create better mobile campaigns. Let's think outside the 320x50 box and build messages that consumers don't want to block.


THE TRADE BODY'S VIEW
DAVID FREW

PROGRAMMES MANAGER
IAB UK
As the trade body for digital advertising, addressing ad-blocking has been one of our highest priorities this year.
If you were at IAB Engage last week, you will have seen the announcement of the LEAN ad standards.
A direct output of the collaboration between national IABs at our recent global summit in New York, they are aimed at improving the online user experience and addressing the main cause of ad-blocking.
Since creating an informal Ad Blocking Working Group made up of about 15 IAB members (predominantly publishers) in March, we've been educating our members through forums and engaging with companies such as Adblock Plus and Shine.
IAB UK has been scrutinising the efforts of other territories such as Germany and the US and identifying what will and won't work, taking these lessons and integrating them into the presentations we give regularly to members.
In August, IAB UK released five statements clarifying our position on the biggest issues facing digital advertising. One is how IAB believes in an ad-funded internet and works with our members to achieve this. We are able to draw on our extensive member base and include everyone in those conversations.
Moving forward, we're holding an ad-blocking seminar on 26 October with speakers from PageFair, Sourcepoint, Yavli and Secret Media. At our video conference in November, we will have Adblock Plus and Shine in attendance, participating in an ad-blocking debate.
We'll continue the hard work, educating members and engaging ad-blocking companies in our discussions to arrive at a practical way to reduce the impact of ad-blocking on our industry.