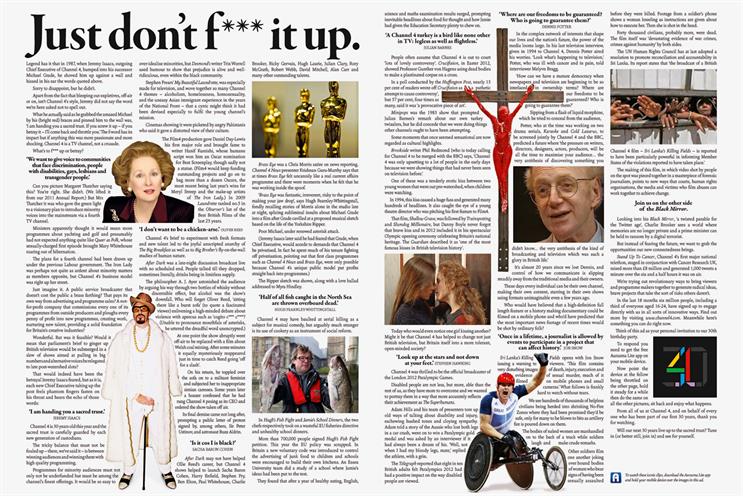 For most of its history, British advertising was renowned for having a way with words. Today, many wonder whether it has become lost for them.
Among those lamenting what they believe is the absence of the written word from much of today's creative output are the founders of Holmes Hobbs Marcantonio, whose roots go back to a time when creative departments abounded with talented wordsmiths.
Now HHM wants to see the written word regaining its importance within an industry they believe undervalues it.
Alfredo Marcantonio, who was inspired by David Abbott (one of the greatest copywriters of his generation) to become a creative, compares long copy to "an ageing star".
"It is rarely asked to appear in advertising," he complains. "Its public appearances are limited to charity fundraisers, raising awareness of an environmental problem and putting its weight behind a political movement or public service."
His agency partner Adrian Holmes, described by one of his former employees, Mark Wnek, as "one of the greatest advertising writers of all time", is equally disturbed.
"Our copywriting muscles have withered," he remarks. "The punchiest headline-writers need to be able to produce long copy as well and I fear that a whole generation has lost the ability to do that."
Steve Harrison, Wunderman's former worldwide creative director and a multi-award-winning copywriter, believes the source of the problem lies beyond adland. "We have a secondary-school system that is producing a generation of youngsters who, compared with their counterparts 30 years ago, are illiterate," he contends.
However, Peter Souter, the chairman and chief creative officer of TBWA UK – and the author of the ITV series Married Single Other – claims the industry has been the victim of its own success at hiring creatives preoccupied with images rather than words.
"The success of TV series such as Homeland prove consumers want to be entertained and moved by great writing," he argues.
Indeed, Liz Harold, the managing partner at the industry headhunting company LIZH, suggests that even in these straitened times, good copywriters remain in demand. "The written word isn't going away," she says.
Some, though, believe that while the industry needs copywriters as much as ever, the way they work is having to change in a communications world in which the internet, blogging and social media now play pivotal roles.
Tim Delaney, the Leagas Delaney chairman, is regarded as one of the most elegant copywriters of the past 30 years. He says: "You only have to look at the number of long-copy ads for holiday cruises in The Daily Telegraph to see that copywriting is still around. And the fact that the ads run all the time must mean that they work.
"Nevertheless, it's true the skill isn't respected as highly as it used to be because people think they can communicate in more visual ways."
Certainly, examples of brilliant long-form copywriting, such as M&C Saatchi's acclaimed MI6 recruitment ad and Channel 4's celebration of its 30th anniversary (created by the former Collett Dickenson Pearce duo Indra Sinha and Neil Godfrey), stand out like an oasis in a desert.
"[The MI6 work] is a beautifully written ad, but I don't expect to see hundreds more like it," Jeremy Sinclair, M&C Saatchi's founding partner, says. "We'll still need good copywriters – but, instead of 40 words to play with, they'll have four."