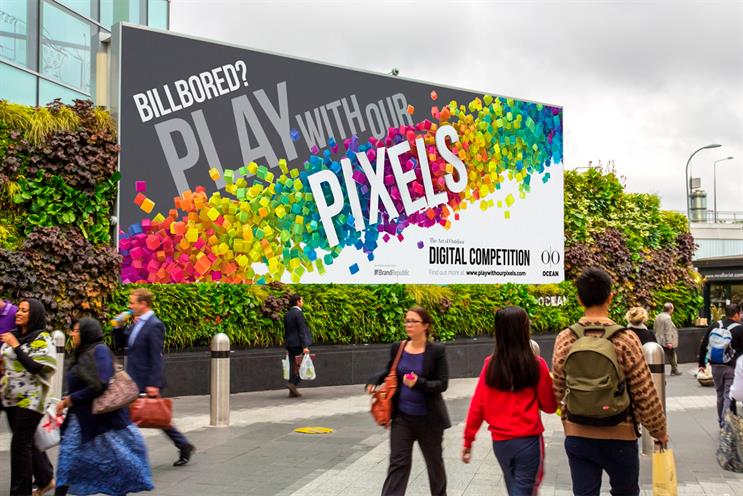 For the fourth consecutive year, brands, the creative community and agencies have the opportunity to enter and win a share of a £275,000 prize pot and a chance for their work to be showcased on Ocean's iconic DOOH locations.
These include Eat Street @ Westfield London, Holland Park Roundabout and The Two Towers West, as well as opportunities on Ocean's regional network.
Films of the successful shortlisted concepts will be showcased on a dedicated website, www.playwithourpixels.com, and the finalists will go on to be judged by a panel of industry experts.
The winners will be announced at a prestigious awards ceremony at the IMax in October.
It is free to enter the competition, which is open until August 30.
This year there are two categories to enter, promoting DOOH techniques and encouraging Interactivity. The prizes include a weekend domination of Eat Street@Westfield London including interactivity and experiential.
Tim Bleakley, chief executive of Ocean Outdoor, said: "Ocean's new neuroscience study has proven for the first time how premium DOOH impacts on the brain and makes great creative work even harder. This competition is all about raising that creative bar.
"One of last year's winners achieved just that with the world's first ever 'Real Live Feed' which invited the public to show their support for free range farming and better welfare standards. It was a stunning idea that was fun, scaleable and promoted an important issue. 'Top that,' is our challenge to the creative community in 2013."
Philip Smith, head of content solutions and studio at Brand Republic Group, said: "This is a platform which allows brands and agencies to push into new territory using the best technologies and locations to capture, entertain and engage.
"Last year's entries demonstrated the possibilities and potential. This year's competition will take us even deeper into the evolving ecosystem that is DOOH."
Previous competition winner, the MicroLoan Foundation, went on to win a Gold Cannes Lions for its celebrated 'Pennies for Life' campaign.
To find out how to enter visit www.playwithourpixels.com and use #PlayWithOurPixels on Twitter.