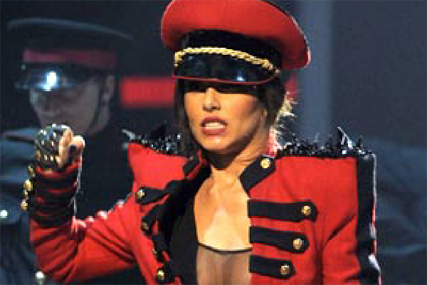 Performers who were originally discovered on 'X Factor' or similar talent shows achieved the biggest increase in download sales, with Cheryl Cole benefiting the most by selling 221,000 copies of her single 'Fight For This Love' in the week after her performance.
Cole was followed by 'X Factor' finalists Alexandra Burke, who sold 145,320 after her performance in the last series, and boyband JLS with 86,725 download sales.
Shakira, whose track 'Did It Again' was already available to buy five weeks before her 'X Factor' appearance, shifted 358% more copies the week after her appearance on the show compared to the week before.
Michael Buble's 'Cry Me a River', on sale a week before his performance on the show, recorded a 323% rise in sales one week afterwards.
Leona Lewis' performance of 'Stop Crying Your Heart Out', which had also already been released, contributed to a 215% rise in sales.
In terms of radio airplay, Mariah Carey saw the biggest boost with her 'X Factor' performance leading to 297% more plays of 'I Want To Know What Love Is', despite the song having its first radio play 12 weeks earlier.
Alicia Keys followed, with a 72% rise, and third was Susan Boyle, with 'Wild Horses' getting 71% more airplay.
Radio play was again dominated by former 'X Factor' stars, with Cheryl Cole at the top with 3,082 plays, again followed by Alexandra Burke and JLS.
Additionally, online buzz for almost all 18 guest stars promoting a track on 'X Factor' increased after their performance, with only George Michael, Rihanna and Bon Jovi, seeing fewer online mentions.
The eight most talked about stars were all female, led by Leona Lewis and Alexandra Burke.
Jean Lintoff, managing director of Nielsen Music Control, said: "The 'X Factor' results programme is a major marketing vehicle for established stars – particularly those discovered through the TV talent show medium itself.
"This type tends to have most activity in terms of download sales, online buzz and radio airplays post performance.
"However the greatest impact in terms of changing levels of activity pre versus post performance is for artists who have travelled a more traditional route to fame."