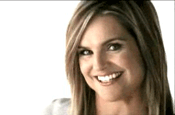 The ad, for Arm and Hammer Enamel Care Sensitive toothpaste, claimed that the product would cure sensitive teeth.

The TV commercial, which was created by Media Therapy, showed Hill claiming: "If you've got sensitive teeth like me, this is real important news. No more grief, a major breakthrough, a toothpaste that will not just mask the problem but fix it."

Rival toothpaste producer GlaxoSmithKline challenged the ad, saying that medicinal claims should not be made without a marketing authorisation from the Medicines and Healthcare products Regulatory Agency.

The ASA agreed, and said the ad should not be rebroadcast without the relevant authorisation.

Clearcast said it had vetted the copy for the ad carefully at the production stage, in conjunction with its consultant dentist, and said it believed the claims were reasonable without MHRA authorisation.